Find that New or Used piece of equipment you've been looking for!
Search Inventory Search Products & Site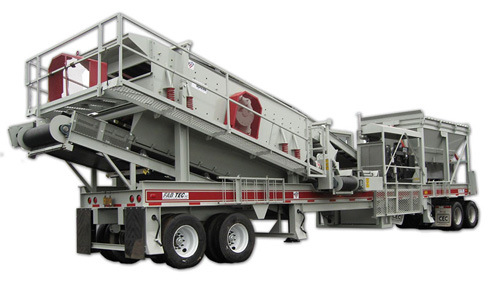 Double tap to zoom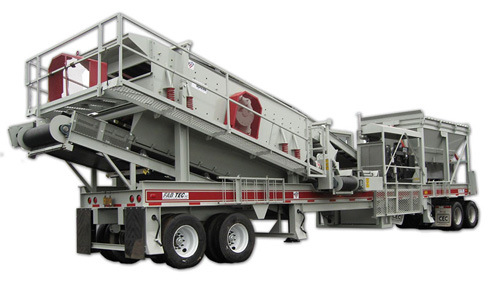 Features
This screen plant is designed for the contractor that needs portability, high production, and reliability.
The unit is mounted on a Tandem axle carrier and built strong throughout. All components are of leading U.S.A. brands.
Specifications
Fab Tec Contractor 5 X 16 3-Deck Screening Plant
TANDEM AXLE CARRIER, 21" WF 57# BEAMS:
1. Hutch 9700 equalizing suspension.
2. 11:00Rx22.5 Tires, hub piloted wheels.
3. Standard forge22,500 axles, airbrakes, lights and mud flaps.
5'x16' PRO INCLINE SCREEN 3 DECK, 20 HP TEFC:
1. Huck bolted screenbox, 3/8"plate sidewalls.
2. 100MM F.A.G. spherical bearings,4150 stressproof shaft,steel machined cartridge type bearing housings with 1 1/4" wall thickness.
3. Adjustable throw.
4. 3rd Deck is end tension style for harp type cloth to aid in fine screening.
5. Optional side tension deck for 3rd deck.
10 C.Y. FEED HOPPER WITH HEAVY DUTY HYDRAULIC DUMP GRIZZLY.
30"x10' BELT FEEDER, 10 HP TEFC:
1. Belts peed 47FPM, weighted feedgate.
2. Belt drive has double reduction for proper speed, and high torque.
3. Vulcanized lagged head pulley, self cleaning wing tail pulley.
30"x39' FEED CONVEYOR, 10 HP MOTORIZED PULLEY:
1. 3 Ply belt, 36" spacing on 35°-5" Can idlers.
2. Van der Graff motorized head pulley, self cleaning wing tail pulley.
3. Dodge SCM bearings and Alloy shafts.
42"x29' UNDER SCREEN CONVEYOR 15 HP TEFC:
1. 36" Spacing on Cema B sealed idlers.
2. 2 Ply belt 3/16" cover.
3. Vulcanized lagged head pulley, self cleaning wing tail pulley
1/4" PLATE UNDER SCREEN HOPPER WITH WEAR STRIPS AND ADJUSTABLE WIPERS.
AR LINED PRODUCT DISCHARGE CHUTES WITH OPTIONAL BLENDING AVAILABLE AND REMOVABLE FOR MAINTENANCE.
(1) 24" FOLD-OUT CROSS CONVEYOR; (2) 30" FOLD-OUT CROSS CONVEYORS. CONVEYORS ARE DESIGNED FOR EASY ACCESS TO OUTSIDE PRODUCT CONVEYOR:
1. All motors are Teco 5HP TEFC.
2. 18" Spacing on Cema B 4" channel inset 20° idlers, Dodge SCM bearings.
3. Vulcanized lagged head pulley and self cleaning wing tail pulleys.
4. Designed for quick set-up with bolted connections.
WALKWAYS WITH SKYWALK FLOOR AND 3" TOE BOARDS BOTH SIDES AND BACK OF SCREEN WITH 42" TUBESTEEL RAILS WITH ACCESS LADDER.
SAFETY GUARDS, SANDBLASTED CHASSIS, RUST INHIBITOR PRIMER, AND TWO FINISH COATS INCLUDED.
OPTIONS:
4 LEG PLANT MOUNTED FAB TEC HYDRAULIC STABILIZING SYSTEM.
BINKLEY SCREW TYPE LANDING JACKS.
HYDRAULIC LIFT FOR FEED CONVEYOR, FEED CONVEYOR HOOD, AND SCREEN.
1/3-2/3 PANEL STYLE BLEND GATES FOR 1ST to 2ND & 2ND to 3RD DECKS.
1/4" AR LINER IN HOPPER (BOLT-IN)
STANDARD 3RD DECK SIDE TENSION CLAMP BARS ~vs~ END TENSION.
PRODUCT CHUTES ~vs~ CROSS CONVEYORS.
SELF CONTAINED 125 kw GEN SET AND SWITCH GEAR (NEMA STARTERS):
1. Perkins diesel
2. 125 kw generator set, heavy duty radiator and air cleaners.
3. 120 gallon diesel tank.
4. Plant mounted switch gear in NEMA 4 enclosure, start & stop buttons on door, fire up warning horn, and conveyor starters.
Sign Up To Join Our Email List