Find that New or Used piece of equipment you've been looking for!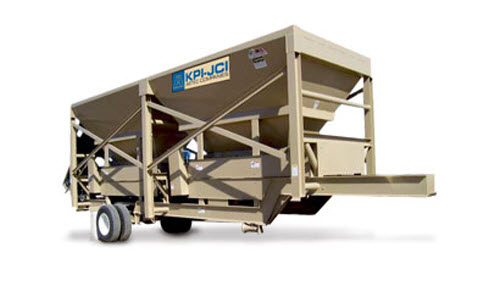 Double tap to zoom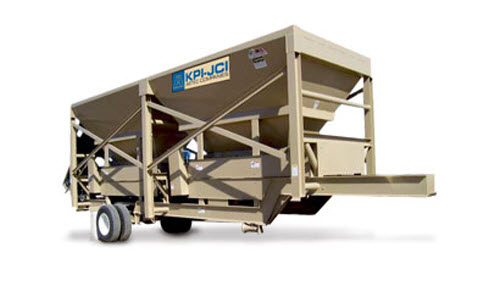 Features
Hopper Feeder:
The Series 12 Feed Hopper has a 10 cubic yard capacity. The top opening of the hopper is 12' long by 6' wide. Its sidewalls are made of 3/16" steel plate.
An 8 foot long belt feeder is located underneath the hopper. The feeder has a belt speed of 100 fpm, and it is powered with a gear reducer drive. The head pulley has grooved rubber lagging and the tail pulley is a self cleaning steel wing type. The rate at which material discharges from the hopper feeder is controlled by either a manually adjustable hopper gate or an optional variable frequency drive for the belt feeder.

Conveyor:
The conveyor being fed by the hopper feeder has a 24" deep lattice frame. The conveyor is supported by an adjustable height, manual telescoping pin lock undercarriage on a single axle.
The conveyor is powered with an electric head end v-belt drive. The conveyor belt speed is approximately 350 fpm.

Chassis:
The Hopper Feeder and Conveyor are supported by a heavy duty channel type chassis. A king pin hitch is located on the feed end of the chassis below the belt feeder.

Paint:
One coat of primer, finish coat of Beige acrylic.

Options:
Belt Cleaners
Undercarriage Lift Cylinder
7.5 Electric/Hydraulic Power Pack
CEMA C Idlers
Feeder Impact Idlers
Conveyor Impact Idlers
Rubber Disc Returns
Pintle Hitch
Variable Frequency Feeder Drive
3-ply Belting
Manual Top Fold
Hydraulic Top Fold
Manual Dump Grizzly
Hydraulic Dump Grizzly
Hydraulic Dump Grizzly Remote Control
Dual Tires
Travel Lights
Air Brakes
Specifications
Model

Hopper Capacity
(cu yards / cu meters)

Top Opening
(ft / cm)

Feeder Size
(in x ft / mm x cm)

Feeder Motor
(HP)

Capacity
(TPH / MTPH)

12-3660

10 / 9

12 x 6 / 366 x 183

36 x 8 / 914 x 244

7.5

600 / 544
0% Financing for 48 Months
Check out our financing special offering 0% for 48 months!
Sign Up To Join Our Email List