Find that New or Used piece of equipment you've been looking for!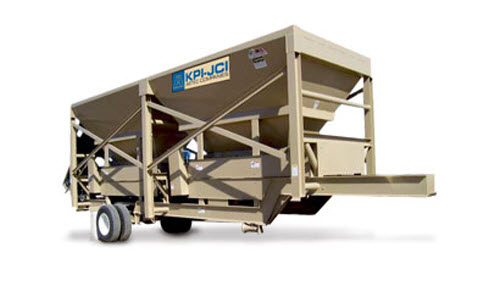 Double tap to zoom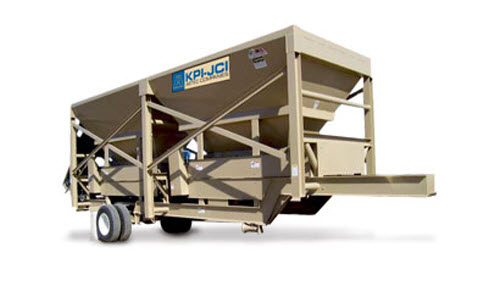 Features
Surge Bin Hopper Feeder:
The surge bin hopper has a 20 cubic yard capacity. The
sides are made of ¼" steel plate. The top opening is 16'
long and 7'-6" wide. The material flow rate of the bin is
regulated with a manually adjustable gate in the front of
the hopper.
A belt feeder is located underneath the hopper. The
feeder has a belt speed of 60 fpm, and it is powered
with a gear reducer drive. The head pulley has grooved
rubber lagging and the tail pulley is a self cleaning steel
wing type. The rate at which material discharges from
the hopper feeder is controlled by either a manually
adjustable hopper gate or an optional variable
frequency drive for the belt feeder.

Conveyor:
The plant conveyor collects material from the surge bin
hopper feeder. The conveyor has a 30" deep lattice
frame and is powered by an electric head end drive.
The lattice frame is supported by an adjustable height
undercarriage.

Heavy Duty Chassis:
The portable surge bin utilizes a heavy duty truck type
with a fifth-wheel king pin towing hitch at the feed end of
the plant. The chassis is supported at the discharge end
by a single axle with dual 11:00x22.5 tires.

Paint:
One coat of primer, finish coat of Beige acrylic.

Options:
Belt Cleaners
Undercarriage Lift Cylinder
7.5 Electric/Hydraulic Power Pack
CEMA C Idlers
Feeder Impact Idlers
Conveyor Impact Idlers
Rubber Disc Returns
3-ply Belting
Variable Frequency Feeder Drive
¼" AR Hopper Liner
Hydraulic Top Fold
Manual Dump Grizzly
Hydraulic Dump Grizzly
Grizzly Remote Control
Landing Gear
Travel Lights
Air Brakes
Specifications
Model

Hopper Capacity
(cu yards / cu meters)

Top Opening
(ft / cm)

Feeder Size
(in x ft / mm x cm)

Feeder Motor
(HP)

Capacity
(TPH / MTPH)

1430-60-20

20 / 18.2

16 x 7.5 / 488 x 229

36 x 16 / 914 x 488

15

500 / 454
0% Financing for 48 Months
Check out our financing special offering 0% for 48 months!
Sign Up To Join Our Email List