Find that New or Used piece of equipment you've been looking for!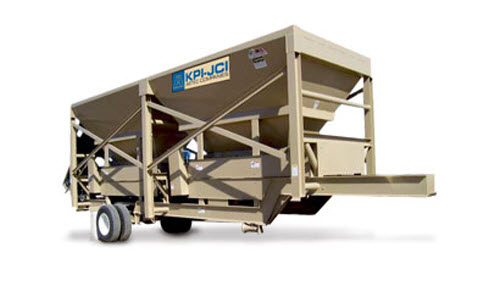 Double tap to zoom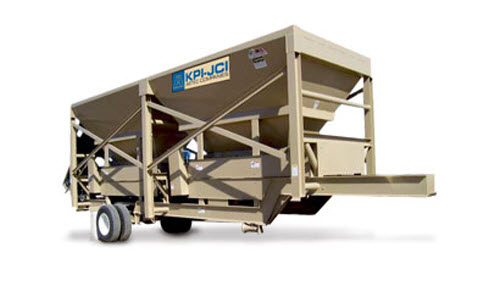 Features
Hopper:
The Series 1900 hoppers are constructed of steel plate.
The hopper sides and back have a steep slope at a
minimum of 65° prevent material bridging and build up.
The hopper front has an adjustable discharge gate that
controls the rate at which material leaves the hopper.

Feeder:
Material exits the hoppers on a heavy duty channel
frame belt feeder. Electric gear reducer head end drives
power the feeders. The head pulleys of the feeders
have grooved rubber lagging to provide efficient power
transfer. The tail pulleys are self-cleaning steel-wing
type pulleys. The hopper feeders come standard with a
2 ply 220 PIW belt with 3/16" x 1/16" covers. The belt is
supported with close-spaced five inch diameter steel roll
CEMA B idlers and is tensioned with a screw-type take
up. An optional variable frequency drive allows the
operator to further control how much material leaves the
hopper feeder by varying belt speed.

Conveyor:
The plant conveyor collects material from the hopper
feeders. The conveyor has a heavy duty channel frame
and is powered by an electric head end drive.

Heavy Duty Chassis:
The chassis for the portable cold feed plant is a heavy
duty truck type chassis. To facilitate travel, the chassis
includes a fifth wheel hitch at the feed end of the plant
and a single axle with dual 11:00 x 22.5 tires and air
brakes at the discharge end of the plant. During
operation, the plant is supported by 6 - 20 ton screw
jacks on blocks.

Paint:
One coat of primer, finish coat of Beige acrylic.

Options:
Tandem Walking Beam Axle
Stationary Plant vs. Portable
10' Hinged Head Section
Specifications
Model

Hopper Capacity
(cu yards / cu meters)

Top Opening
(ft / cm)

Feeder Size
(in x ft / mm x cm)

Feeder Motor
(HP)

Capacity
(TPH / MTPH)

1936-2 (2 bin)

13 / 11.8

13 x 9 / 396 x 274

30 x 8 / 762 x 244

5

750 / 680
0% Financing for 48 Months
Check out our financing special offering 0% for 48 months!
Sign Up To Join Our Email List