Find that New or Used piece of equipment you've been looking for!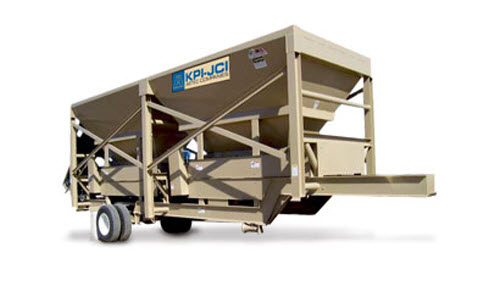 Double tap to zoom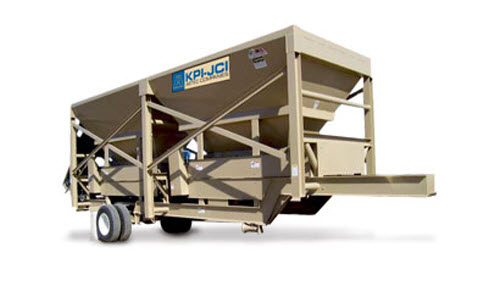 Features
Hopper:
The Series 900 hopper is constructed of ¼" steel plate.
The hopper sides and back have a steep slope at a
minimum of 65° prevent material bridging and build up.
The hopper front has an adjustable discharge gate that
controls the rate at which material leaves the hopper.

Feeder:
Material exits the hopper on a heavy duty channel
frame belt feeder. An electric gear reducer head end
drive powers the feeder. The head pulley of the feeder
has grooved rubber lagging to provide efficient power
transfer. The tail pulley is a self-cleaning steel-wing
type. The hopper feeder comes standard with a 2 ply
220 PIW belt with 3/16" x 1/16" covers. The belt is
supported with close-spaced five inch diameter steel
roll CEMA B idlers and is tensioned with a screw-type
take up. An optional variable frequency drive allows the
operator to further control how much material leaves
the hopper feeder by varying belt speed.

Skid Support Structure:
The support structure of the Series 900 consists of
structural I-beam columns, I-beam skid members, and
channel cross bracing. Both the hopper and the feeder
are directly supported by the structure. The skid
members of the frame have pick points on the front and
back to aid in moving the hopper feeder.

Paint:
One coat of primer, finish coat of Beige acrylic.

Options:
Belt Cleaner
AR Liner
CEMA C idlers
Impact Idlers
Variable Frequency Feeder Drive
Manual Dump Grizzly
Hydraulic Dump Grizzly (includes 15hp power package)
Remote Control for Hydraulic Dump Grizzly
3 ply, 330 PIW belting
Specifications
Model

Hopper Capacity
(cu yards / cu meters)

Top Opening
(ft / cm)

Feeder Size
(in x ft / mm x cm)

Feeder Motor
(HP)

Capacity
(TPH / MTPH)

936-16-20

20 / 18.2

16 x 7.5 / 488 x 229

36 x 16 / 914 x 488

15

750 / 680
0% Financing for 48 Months
Check out our financing special offering 0% for 48 months!
Sign Up To Join Our Email List