Find that New or Used piece of equipment you've been looking for!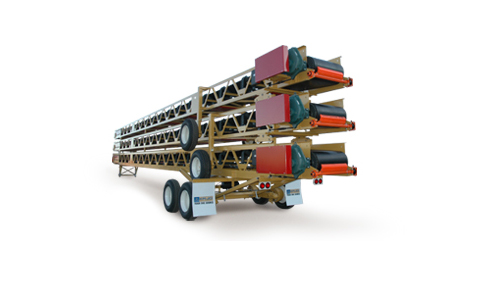 Double tap to zoom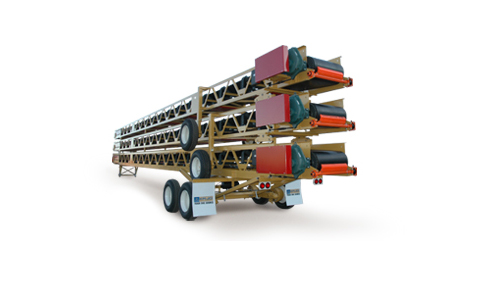 Features
Conveyor Frame:
Lattice Frame with heavy duty chord and intermediate angles.

Idlers:
All standard idlers are CEMA B – 5" diameter
• 35 degree troughing idlers (3 roll) on 4' spacing
• 20 degree idlers (3 roll) at feed point close spacing
• Flat steel return idlers (single roll) on 10' spacing

Receiving Trough:
5' 6" long with adjustable rubber flashing.

Belt Drive:
• Head end drive
• Class I, Dodge shaft mount reducer w/backstop
• V-belt, motor mounts and guards
• grooved rubber lagged head
• steel wing tail
• 12" Screw take-up

Belt:
2 ply 220 PIW, 1/8" x 1/16" cover with mechanical fasteners

Belt Cleaner (Optional):
Martin belt cleaner on head pulley of conveyor

Paint:
One coat of primer, finish coat of Beige acrylic

Three Pack (Optional):
Three packs are groups of three Series 47 Stackable
Conveyors that can be "piggy backed" on top of one
another to facilitate easy transport from site to site. One
conveyor of the three includes road portable options.
The remaining two conveyors are transported on top of
the road portable conveyor and include options for in-pit
portability only.

Roll Pack Option (Optional):
The Roll Pack is an upgrade to the Three Pack option.
The conveyors are outfitted with a roller rail system that
makes the unloading and set-up process happen
quickly and easily.

Collapsible Undercarriage (Optional):
The collapsible undercarriage option equips a standard
stackable conveyor with an undercarriage that does not
need to be removed when transporting multiple
conveyors on the same trailer. When in operating
mode, this undercarriage allows the conveyor to be
utilized as either a stacker or transfer conveyor.

Options:
Receiving Hopper
AR Liners
Roll Pack Upgrade
Collapsible Undercarriage
3 ply; 330 PIW Belt Upgrade
CEMA C Idler Upgrade
Pintle Hitch
Vulcanized Belt Splice
Adjustable Height Dolly Undercarriage
Landing Gear
Walking Beam Axle Assembly
Anchor Pivot for Radial Travel
King Pin
Air Brakes
Travel Lights
Dual Tires
Specifications
Model

Size
(in x ft / mm x cm)

Motor
(HP)

Capacity
(TPH / MTPH)

Belt Speed

47-4250S

42 x 50 / 1067 x 1524

20

1000 / 907

350
0% Financing for 48 Months
Check out our financing special offering 0% for 48 months!
Sign Up To Join Our Email List