Find that New or Used piece of equipment you've been looking for!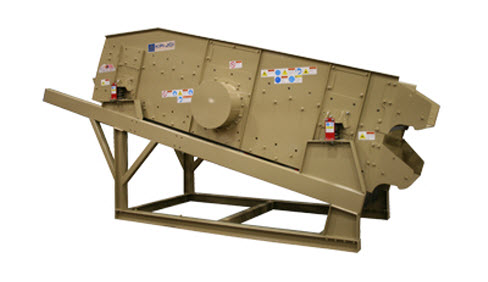 Double tap to zoom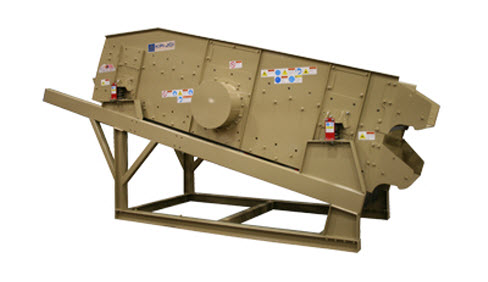 Features
SCREEN FEATURES
Heavy duty 5/16" side plates & reinforcing plates
Huck-bolted assembly
Circular stroke pattern
Incline angle 20 degrees
Single crown top, ctr, & btm decks set up for wire cloth
Changeable amplitude (stroke) - completed by adding or
    removing bolt on weights, change driven sheave & hub
Standard stroke - 3/8" set to run at 850 rpm (optional
    1200 rpm motor)
Grease lubricated bearings
Labyrinth seal & lip seal to prevent grease contamination
Wire springs
Rubber snubbers to minimize side to side movement and
    dampen screen motion on start-up and shut-down
Bolt on rubber tailgates between decks
12" feedbox with 1/4" AR plate liner
6" discharge lip with 1/4" AR plate liner
Heavy duty vibrating screen double roll bronze cage
    spherical roller bearings
High strength long lasting 4' drawplates
Vertical spring support channels for strong basket
Jacking bolts for easy service of shaft assembly
Heavy-duty 5/16" shaft tube guard
Screen width nominal on 4',5', and 6' screens
    (Ex. 4' screen has 48" inside plate width)
Right hand elec v-belt motor drive w/belt guard
Pivoting motor base (motor optional)
Specifications
FEATURE
SPECIFICATION
FEATURE
SPECIFICATION
Standard Stroke Length
3/8"
Cloth support bar thickness (rail thickness)
3/8"
Standard operating speed
850 rpm
Deck cross-member spacing
24"
Optional stroke speed relationship
¼" stroke 1000 rpm
½" stroke 750 rpm
Side plate thickness
5/16"
Maximum feed size
10"
Reinforcing plate thickness
5/16"
Maximum media weight
8lbs/sq. ft.
(Net of mounting hardware)
Feed box liner thickness (AR plate)
1/4"
Maximum top deck opening
4"
Discharge lip liner thickness (AR plate)
1/4"
Maximum drop of feed
18"
Shaft tube guard
5/16"
0% Financing for 48 Months
Check out our financing special offering 0% for 48 months!
Sign Up To Join Our Email List