Find that New or Used piece of equipment you've been looking for!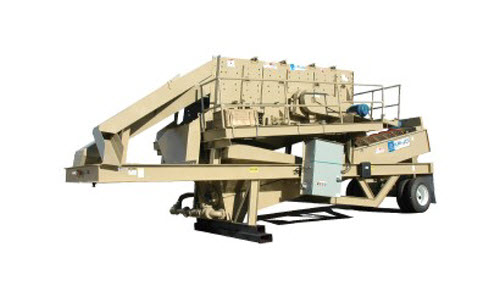 Double tap to zoom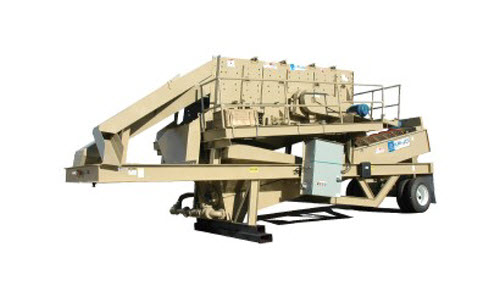 Features
SCREEN
KPI-JCI 6' x 16', 3-deck, 10o, wet vibrating screen
– V-belt drive assembly with 40-HP, 1800 RPM motor
– Huck-bolted assembly
– 3/8" plate steel side plates
– Two (2) 160-mm bearings
– Eccentric shaft with bolt-in counterweights
– Eight (8) coil spring suspension system
– Side tension drawbar screen cloth retention system
(screen cloth is optional)
– Screen operates at 10o angle with a shaft speed of
approx. 900 rpm

FINE MATERIAL WASHER
KPI-JCI Model 5036-25T (36" twin) fine material washer
– Tank is of 3/16" (sides and bottom) and 3/8" (rear end
plate) welded plate steel construction and includes a
curved bottom with integral rising current manifold (4"
dia. inlet)
– Large undisturbed pool area with adjustable weir boards
and overflow flume with 10" dia outlet
– Double pitch, solid flight spiral assembly with standard
AR steel inner wear shoes and standard urethane outer
wear shoes
– Greaseable, externally mounted Dodge Imperial E tail
end flange bearing; greaseable Dodge pillow block head
end bearing
– Lower end seal - chrome plated stainless steel wear
sleeve, water tight bellows type rubber seal and
secondary grease seal
– High efficiency v-belt drive assembly (one drive assembly
per spiral) includes 15-HP TEFC motor and Dodge TA-II
double reduction shaft mount reducer
– Tapered discharge chute set at 45o angle to grade
See Model 5036-25T Spec Sheet for additional information

STRUCTURAL SUPPORT
– Steel 8" wide-flange support columns and 8" wide-flange
skid runners on each side
– Broken down for shipment and match-marked for ease
of assembly in the field

WATER SYSTEM
– All fresh water plumbing to a single 8" inlet located near
the tail end of the fine material washer
– Fine material washer manifold includes a 4" butterfly
valve, 4" swing check valve and pressure gauge
– 1" chase water plumbing with gate valves
– Screen manifold with flow control valves for each spray bar
– Eleven (11) spray bars with a total of ninty-nine (99) 7.0
gpm (@ 40 psi) spray nozzles and fourty-two (42) 15.0
gpm (@ 40 psi) spray nozzles
– 3" connection on the screen manifold for the optional
feed box

SCREEN CHUTES / FINES HOPPER
– 3/16" A36 welded plate steel construction
– Chutes allow for positioning of three (3) radial stackers
under the chutes
– Fines hopper transitions to the feed box of the 36" twin
fine material washer

ACCESS
– 36" wide access platform with 1-1/2" OD handrails and
toeboards across the feed end and one side of the screen
– 48" wide access platform with 1-1/2" OD handrails,
and toeboards along drive side of the screen
– Ladder access from grade which can be located on either
side of the plant

PHYSICAL / OPERATING CHARACTERISTICS
– Feed Material Size - Typically 6" minus
– Capacity - Approximately 400 TPH (dependent on feed
gradation and desired products)
– Water Requirements - Up to 1,200 gpm (dependent on
feed gradation and desired products)
– Operating Dimensions
        Length 42'-8" overall
       Width 16'-0"
       Height 18'-4-1/2" without feed box / 22'-10" with feedbox
– Loads
Overall 90,000 lbs
Note individual plant weights will vary dependent on
options included
Specifications
Model

Screen Size
(ft x ft / m x m)

Fine Material Washer Size
(in x ft / mm x m)

Blademill Size
(in x ft / mm x m)

Water Requirements
(USGPM)

1822S

6 x 16 / 1.8 x 4.9
(incline)

36 x 25 / 914 x 7.6
(twin)

n/a

1200
0% Financing for 48 Months
Check out our financing special offering 0% for 48 months!
Sign Up To Join Our Email List