Find that New or Used piece of equipment you've been looking for!
Search Inventory Search Products & Site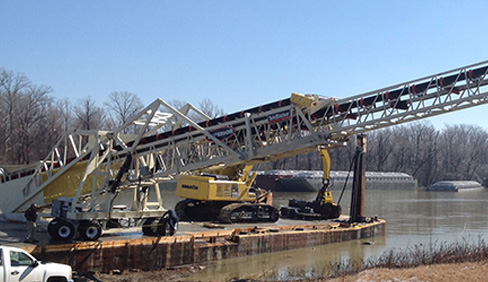 Double tap to zoom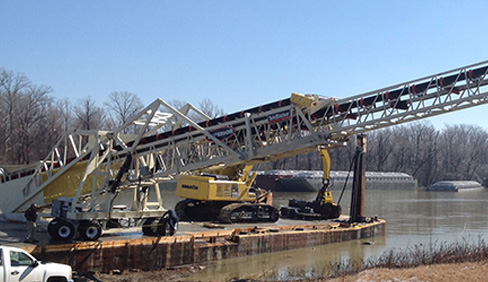 Features
Mobility combined with telescopic technology allows users to fill multiple hatches from one feed point.
Maintaining a single feed point reduces constant relocation, speeding the loading process.
In addition, the conveyor's luffing action allows it to adjust to tides and diverse ship sizes.
At rates up to 5,000 tons per hour, we manufacture the highest capacity radial telescopic conveyor.
This versatile machine performs numerous functions including loading, unloading and stockpiling.
Specifications
| | |
| --- | --- |
| Time of Operation | Class II (1.5 SF or 16 hour shift) |
| Environment | Coastal |
| Finish | Galvanized or Epoxy |
| Operating Tonnage | 500-5,000 TPH |
| Belt Width | 36" - 72" |
| Belt Thickness | 3/4" MOR Grain or Wood Chip |
| Primary Belt Scraper | Mine Duty Belt Scraper |
| Secondary Belt Scraper | Mine Duty Belt Scraper |
| Pulleys | Mine Duty 2.0 |
| Pulley Lagging | 1/2" HBR |
| Motor | Severe Duty |
| Gearing | Right Angle/Direct Coupled |
| Bearings | SAF Pillow Block |
| Take-ups | Heavy Duty Take-up |
| Idlers | 6" CEMA C, D and E |
| Skirting/Load Area | 5' - 10' with Sealing System |
| Remote Greasing | Recommended |
| Movement Horn | Available |
| Zero Speed Switch | Recommended |
| Mis-Alignment Switch | Recommended |
| E-Stop and Cable | Recommended |
| Rip Detection Switch | Recommended |
| Area Lighting | Available |
| Tracks | Available |
| Portability | FD Axle, Pit Portable Axle, Fixed Radial Axle |
| Guarding/Handrails | Painted Safety Yellow |
| Discharge Hoods | Recommended, Telescoping Chutes Available |
| Hood and Skirting Liners | 3/8" AR 400 |
| Belt and Wind Covers | Recommended for Dust |
Sign Up To Join Our Email List