Find that New or Used piece of equipment you've been looking for!
Search Inventory Search Products & Site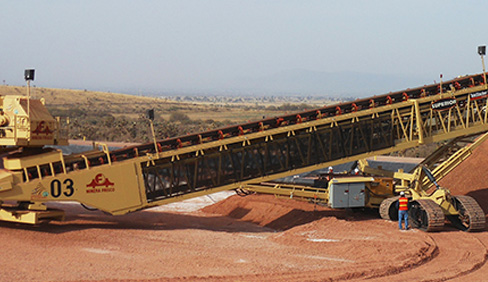 Double tap to zoom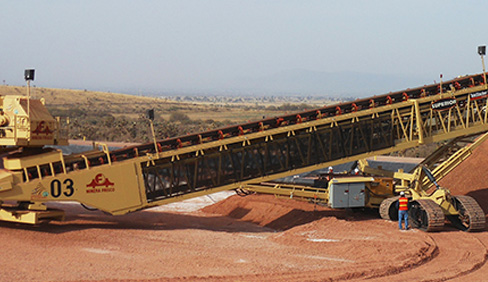 Features
Capable of producing extreme volume stockpiles with total volumes exceeding 275,000 tons.
Added bracing and support of patented FB® Undercarriage ensured unrivaled safety and support.
Stinger conveyor extends allowing conveyor to stockpile 30% more material.
The most effective solution for controlling stockpile segregation.
Learn more about the TeleStacker Conveyor in heap leach applications.
Specifications
| | |
| --- | --- |
| Time of Operation | Class III (2.0 SF or 24 hour shift) |
| Environment | Dry/Inland |
| Finish | Enamel |
| Operating Tonnage | 200-3,000 TPH |
| Belt Width | 24" - 72" |
| Belt Thickness | 3/4" Flame or Cut/Gouge-resistant |
| Primary Belt Scraper | Mine Duty Belt Scraper |
| Secondary Belt Scraper | Mine Duty Belt Scraper |
| Pulleys | Mine Duty 2.0 |
| Pulley Lagging | 1/2" HBR |
| Motor | Severe Duty |
| Gearing | Right Angle/Direct Coupled |
| Bearings | SAF Pillow Block |
| Take-ups | Heavy Duty Take-up |
| Idlers | 6" CEMA C, D and E |
| Skirting/Load Area | 5' - 10' with Sealing System or Impact Bed |
| Remote Greasing | Recommended |
| Movement Horn | Recommended |
| Zero Speed Switch | Recommended |
| Mis-Alignment Switch | Recommended |
| E-Stop and Cable | Recommended |
| Rip Detection Switch | Recommended |
| Area Lighting | Recommended |
| Tracks | Recommended for Heap Leach |
| FB® Undercarriage | Recquired |
| Portability | FD Axle, Pit Portable Axle |
| Guarding/Handrails | Painted Safety Yellow |
| Discharge Hoods | Recommended |
| Hood and Skirting Liners | 1/2" AR 400 |
| Belt and Wind Covers | Recommended for Dust |
Sign Up To Join Our Email List