Find that New or Used piece of equipment you've been looking for!
Search Inventory Search Products & Site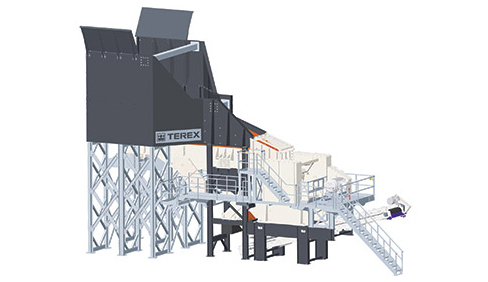 Double tap to zoom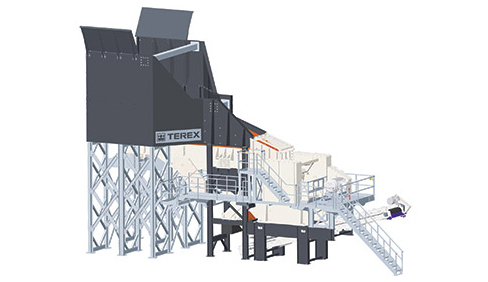 Features
The Terex® MJ47 Modular Jaw Crusher is designed for large quarries or contractors that want a stationary type design without the complexity of a normal stick-built plant. The MJ47 module features the robust, 36" x 48" (914mm x 1219mm) Terex® Jaques ST47 jaw crusher. Other key features include the Terex® Simplicity 51" x 24' (1.3 m x 7.3 m) heavy-duty double-deck vibrating grizzly feeder, and a large capacity truck dump hopper.
 
The modular product line consists of several pre-designed static and semi-static crushing and screening "plug and play" modules. This simple but effective product line gives flexibility to customers to choose "ready to work" modules to create the plant needed for a variety of applications. All modules are designed to fit and work together interchangeably.
Specifications
Module Structure
• Bolts together on-site, quick setup time with basic tools
• Robust weather-protected IP55 control panel with user-friendly manual/automatic control
• Emergency stop stations
• Galvanized/painted steel structure
• Galvanized steel walkways, stairs and guard rails
 
Jaw Crusher
• Terex® Jaques ST47 jaw crusher 36" x 48" (914mm x 1219mm)
• V-belt drive, 200 hp (150kW) motor with guard
• Robust one-piece jaw frame design
• Large diameter, forged main shaft
• Single, rocking-end toggle requires no lubrication
 
Truck Dump Hopper
• Rock box design with 5/8" (15mm) thick hopper; 3/4" (20mm) liner along wear edge of hopper
• Hopper width: 16'7" (5047mm)
• Live capacity of hopper: 69 tons (63 tonnes)
 
Vibrating Grizzly Feeder
• Terex® Simplicity 51" x 24' (1.3m x 7.3m) OFC120A vibrating double-deck grizzly feeder
• Independently mounted pivot-type motor base
• V-belt drive, 50 hp (37kW) motor and guarding
• ½" (12.7mm) wear resistant side and floor liner plates
• Pan feeder length: 14' (4.3m); feeder width: 51" (1.3m)
• Stepped grizzly length: 10' (3.04m); two 5' (1.5m) sections with adjustable openings
 
Plant Chute Work
• Grizzly fines/bypass 2-way chute discharges to product conveyor or to off-plant fines conveyor
 
Discharge Conveyor
• 48" x 26' (1200mm x 8m) conveyor with 3-ply belt
• 20 hp (15kW) electric drive motor
• Impact bars at feed point
• High spec scraper at head drum
• Skirted full length
Sign Up To Join Our Email List