Find that New or Used piece of equipment you've been looking for!
Search Inventory Search Products & Site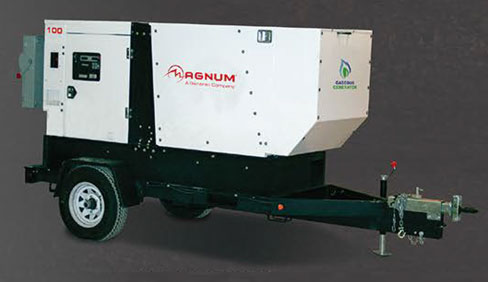 Double tap to zoom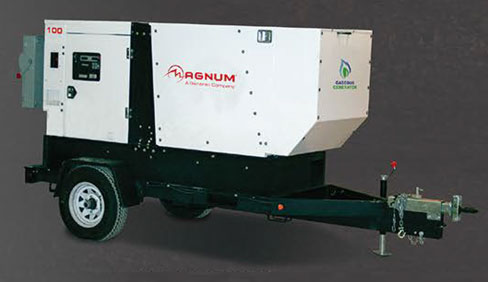 Features
Our gaseous generators provide cost effective power by using well gas byproduct as fuel. One gaseous generator can save an oil and gas site as much as $200K per year in diesel costs.
Our gaseous generators operate on well gas, natural gas or propane and are ready to be deployed for use as prime power for a number of oil field operations. If you have off the grid power needs we have a product to fit your needs.
Specifications
Engine:
Generac® - Naturally aspirated, gaseous engine
Standby - 149 hp @ 1800 rpm
8 cylinder
8.9 L displacement
EPA certified mobile & stationary
Fuel consumption rates (natural gas):
100% - 1116 ft3/hr (31.6 m3/hr)
75% - 904 ft3/hr (25.6 m3/hr)
50% - 669 ft3/hr (19.0 m3/hr
Inlet fuel regulator
Gas/water separator
Cooling system capable of operating at 120°F ambient
Clutch fan (option)
Low coolant shutdown
Oil drain plumbed to exterior
Kenco oil level controller with 16 gallon reservoir
Rubber vibration dampers isolate engine/generator from frame
Generators:
Marathon Electric®
Brushless
4 pole
Class H insulation
Voltage regulation +/- 1%
Permanent Magnet Generator (PMG)
System Output:
Three phase – 277 / 480V High Wye, Natural Gas
100 kW – standby, three phase
60 kW – continuous, three phase
Performance on non-standard gas will vary. Gas content must be approved by Magnum.
System Controls:
Generac® H-100 controller
Encapsulated board with sealed harness
4-20mA voltage-to-current sensors
Advanced diagnostics and communications
Electrical Controls:
Eaton DH364URK safety disconnect
NEMA 3R rainproof enclosure
Lockable lug box with safety switch
Cable entry guides to the lug box
Restricts access of foreign objects
Output ground connection lug inside lug box
200A/600V rating
UL listed
Main breaker
720 CCA liquid acid battery
Battery charger
Battery disconnect
Enclosure:
Aluminum, sound attenuated enclosure
80.5 dB(A) at 23 feet – prime power
Fully lockable enclosure
Emergency stop switch located on outside of enclosure
Central lifting point
Multi-lingual operating/safety decals
Document holder with operating manual including AC/DC wiring diagrams
Trailer:
DOT approved tail, side, brake, and directional lights
Recessed rear lights
Transportation tie downs
Safety chains with spring loaded safety hooks
3" lunette ring hitch (2 5/16" ball option)
(1) 6000 lb. axle with surge brakes (tandem option) (electric option)
2000 lb. tongue jack with footplate
ST225/75R15 tubeless tires – 8 ply
NATM compliant
Weight & Dimensions:
Skid mounted
Operating weight: TBD lbs plus well gas equipment (TBD kg)
119 x 40 x 62 in (3.02 x 1.02 x 1.57 m)
Trailer mounted
Operating weight: TBD lbs plus well gas equipment (TBD kg)
170 x 69 x 80 in (4.32 x 1.75 x 2.03 m)
Warranty:
1 year/2000 hours
Sign Up To Join Our Email List