Find that New or Used piece of equipment you've been looking for!
Search Inventory Search Products & Site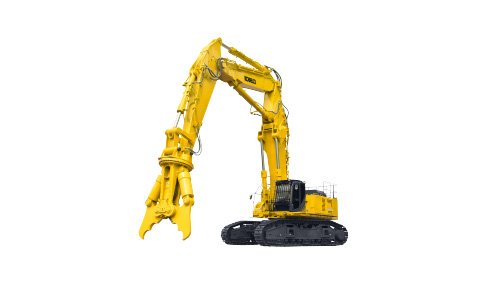 Double tap to zoom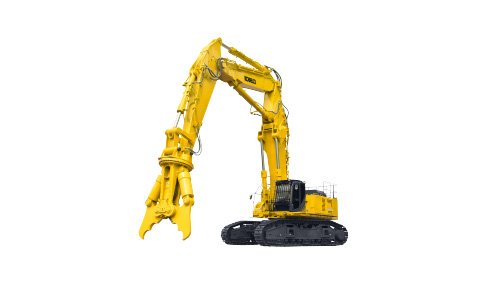 Features
Multi-purpose main boom can change attachments
GD Ultra Long Attachment -  For jobs that require work height more than anything
HD Ultra Long Attachment -  If you need crushing force on another class in elevated demolition
Separate + Insert Boom Attachment - Emphasize crushing force while still meeting height requirements.
Separate Boom Attachment - A powerful Nibbler effective at foundation demolition.
---
Neat assembly and disassembly and a shipping setting
We' ve prepared an optional removable trans-lifter for safely attaching/removing the crawler and loading the base machine onto a trailer. The counterweight also uses a separable, stacking type that is convenient for shipping and easy to remove. The hydraulic extendable / retractable crawler mechanism allows for smooth change of the machine's width
---
3 Work Modes
Choose from 3 work modes. In addition to H Mode, which prioritizes work amount, and S Mode, which balances work amount with fuel efficiency, we added a new setting – ECO Mode ,which allows for operation that reduces fuel costs. The fuel gauge is lit up green during fuel-efficient operation
---
Always maintains optimal heat balance
Uses an auto-cool fan, which controls the fan speed based on changes in the engine coolant temperature, thus helping prevent overheating
---
Installed a new, more comfortable DS cab
Based on a cab with four reinforced support pillars, we installed a DS cab equipped with a 3-sided guard, sashless structure, and head guard compliant with FOPS (falling objects protective structure) level 1. Compared to conventional types, we expanded space 4% and achieved a wider visibility by widening the front window 3.2 inches {80 mm}. Also, using the high-suspension mount, we greatly reduced vibrations
---
Specifications
Model Name
SK1000DLC
Machine Type
SK1000DLC-9
Operating Weight lbs {kg}
245,000 {111,100} / 236,000 {106,900} / 250,000 {113,400} / 256,000 {116,100} / 259,000 {117,300} / 247,000 {112,000} / 252,000 {114,100}
Engine
Model
HINO E13C-VV
Type
Diesel engine with turbocharger and intercooler
Rated power output
509 HP {380 kW} / 1,800 rpm
Fuel tank
258.9 gal {960 L}
Swing System
Swing Speed
8.4 {8.4} min-1 {rpm}
Travel System
Travel motors
 
Travel shoes
 
Travel speed
LOW (1st) speed 1.7 mph {2.7 km/h} / HIGH (2nd) speed 2.6 mph {4.2 km/h}
Drawbar pulling force
143,200 lbf {637 kN} (SAE J 1309)
Gradeability
180% {10°}
Hydraulic System
Pump Type
 
Max.discharge flow
 
Hydraulic oil tank
261.6 gal {990 L} tank oil level,
137.9 gal {522 L} hydraulic system
Sign Up To Join Our Email List