Find that New or Used piece of equipment you've been looking for!
Search Inventory Search Products & Site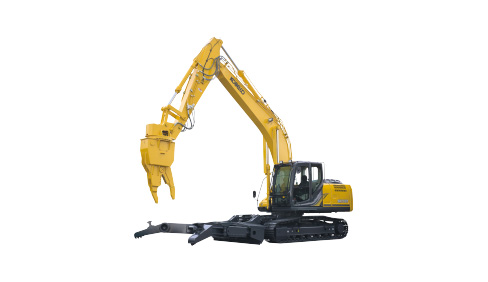 Double tap to zoom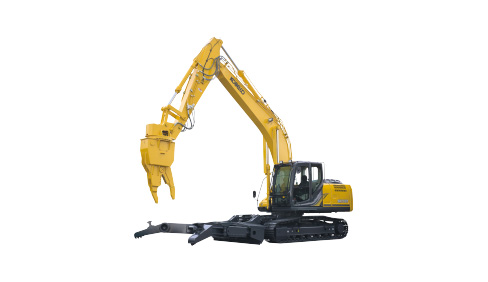 Features
Disposal of End-of-life Vehicles and Other Metals Dismantling Work
For vehicle dismantling work - Four times* the vehicle dismantling capacity compared with hand dismantling
For engine dismantling - Speed increased ten-fold over hand dismantling!
For dismantling complex parts - Separates components of various metals
---
A Choice of Two Specialized Nibblers For Different Dismantling Tasks
Multi-Dismantling Nibbler - is suited to small-scale separating and sorting. 
Vehicle Dismantling Nibbler - has a powerful grab, cutting force and rotational torque.
---
KOBELCO's Innovation Clamp Arm
Bowl-shaped Grip - Can easily grasp and hold objects. Convenient for removing parts while rotating item front to back.
Cutting Teeth -  Can crush or cut through items with powerful crushing force.
Front Teeth - Differently shaped teeth on left and right. Convenient for breaking, bending and tearing
---
Fine Control Allows Swift,Point-perfect Positioning
Attachment starts and stops are smooth, with no sudden speed changes in simultaneous operations. The smooth inching control is essential for small-scale work.
---
Advanced Energy-saving Technologies Lower Fuel Consumption
Fuel consumption is reduced with a new environmental engine and energy-saving hydraulic system. When the machine is in the new ECO mode, fuel consumption is cut by about 16%, compared with S mode of the previous model (KOBELCO test data)
---
New Spacious Cab Has High-strength Design
Newly designed cab provides a spacious interior and a wide field of view. Its high-strength construction has additional grilles across two sides to protect operator.
---
Specifications
Model Name
SK210D
Machine Type
SK210D-9
Operating Weight lbs {kg}
65,917 {29,900}
Swing speed
12.5 min-1 {12.5 rpm}
Travel Speed
2.2 mph {3.7 km/h}
Gradeability
70% {35°}
Engine
Model
HINO J05E-TI
Rated power output
117 HP {157 kW} / 2,000 rpm
Fuel tank
97.9 gal
Relief vale setting
34.3 psi(MPa)
Hydraulic oil Tank(system)
38.5 {60.8}
Dimensions
Overall length
42"7' ft-in (12,970 mm)
Overall width
10"3' ft-in (3,115 mm)
Overall height
12"0' ft-in (3,600 mm)
Tail swing radius
9"5' ft-in (2,860 mm)
Working ranges
Installed attachement
KVE720PR
KV800PR
Max vertical working range
29"5' ft-in (8,960 mm)
29"7' ft-in (9,010 mm)
Max operating height
19"2' ft-in (5,830 mm)
19"6' ft-in (5,940 mm)
Min swing radius
11"7' ft-in (3,540 mm)
Working height of clamp arm
6"5' ft-in (1,960 mm)
Operating width of clamp arm
6"1' ft-in (1,850 mm)
Sign Up To Join Our Email List