Find that New or Used piece of equipment you've been looking for!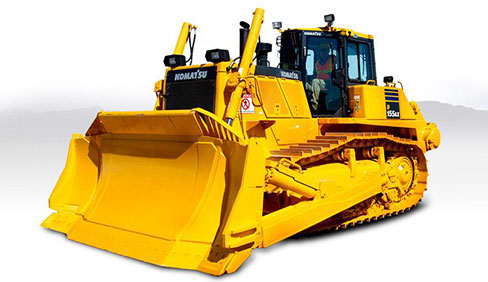 Double tap to zoom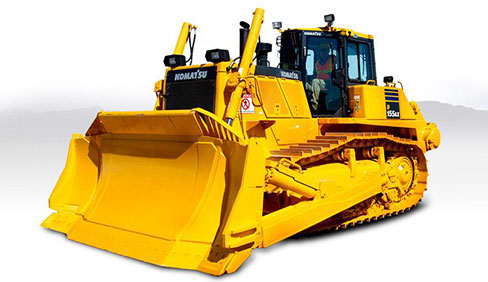 Features
The D155AX-7 is a dozer that bridges the gap between contractor site prep dozers and large contractor production/mining dozers. The Tier 4 interim D155AX-7 has the precise and responsive hydraulic control and smooth turning of hydro-static steering of smaller dozers for grading and big dozer features like a lock-up torque converter, Unique, high production Sigma dozer blade and K-bogie oscillating undercarriage.
Specifications
Engine
 
 
Model
 
Komatsu SAA6D140E-6*
Type
 
4-cycle, water-cooled, direct injection
Aspiration
 
Komatsu variable geometry turbocharged, air-to-air aftercooled, cooled EGR
Number of cylinders
 
6
Bore x stroke
5.51" x 6.50"
140 mm x 165 mm
Piston displacement
930 in³
15.24 ltr
Governor
 
All-speed and mid-range, electronic
Horsepower :
 
 
SAE J1995 - Gross
360 HP
268 kW
ISO 9249 / SAE J1349 - Net
354 HP
264 kW
Rated rpm
 
1900 rpm
Fan drive type
 
Hydraulic
Lubrication system :
 
 
Method
 
Gear pump, force lubrication
Filter
 
Full-flow
*EPA Tier 4 Interim and EU stage 3B emissions certified
 
 
 
 
 
TORQFLOW Transmission
 
 
Komatsu TORQFLOW transmission consists of a water-cooled, 3-element, 1-stage, 2-phase, torque converter with lockup clutch, and a planetary gear, multiple-disc clutch transmission which is electronically controlled, hydraulically actuated and force-lubricated for optimum heat dissipation. Shift lock lever and neutral safety switch.
 
 
Travel speed:
 
 
1st Gear forward
2.4 mph
3.8 km/h
1st Gear reverse
2.9 mph
4.6 km/h
2nd Gear forward
3.5 mph
5.6 km/h
2nd Gear reverse
4.2 mph
6.8 km/h
3rd L Gear forward
4.7 mph
7.5 km/h
3rd L Gear reverse
5.7 mph
9.2 km/h
3rd Gear forward
7.2 mph
11.6 km/h
3rd Gear reverse
8.7 mph
14.0 km/h
Final Drive
 
 
 
 
 
Double-reduction, spur and planetary final drives increase tractive effort. Segmented sprockets are bolt-on for easy in the field replacement.
 
 
 
 
 
Steering System
 
 
Palm Command Control System (PCCS) lever controls for all directional movements. Pushing the PCCS lever forward results in forward machine travel, while pulling it rearward reverses the machine. Simply tilt the PCCS lever to the left to make a left turn. Tilt it to the right for a right turn. 
 
 
 
 
 
Hydrostatic Steering System (HSS) is powered by steering planetary units and an independent hydraulic pump and motor. Counter-rotation turns are also available. Wet, multiple-disc, pedal-controlled service brakes are spring-actuated and hydraulically released. Gearshift lock lever also applies parking brakes.
 
 
 
Minimum turning radius
7'0"
2.14 m
 
Undercarriage
 
 
K-Bogie undercarriage
 
 
Lubricated track rollers are resiliently mounted on the track frame with a bogie suspension system whose oscillating motion is cushioned by rubber pads. 
 
 
 
 
 
Track shoes
 
 
Lubricated tracks. Unique dust seals for preventing entry of foreign abrasives into pin-to-bushing clearance for extended service. Track tension easily adjusted with grease gun.
 
 
 
Suspension
 
Oscillation-type with equalizer bar and forward mounted pivot shafts
Track roller frame
 
Monocoque, high-tensilestrength steel construction
Rollers and idlers
 
Lubricated
Number of shoes (each side)
 
42
Grouser height
3.1"
80 mm
Shoe width (standard/maximum)
610 mm / 710 mm
24" / 28"
Ground contact area
6,193 in²
39955 cm²
Ground pressure (tractor only)
11.9 psi
82.4 kPa / 0.84 kg/cm²
Number of track rollers (each side)
 
7
Number of carrier rollers (each side)
 
2
 
 
 
Service Refill Capacities
 
 
Fuel tank
165 U.S. gal
625 ltr
Coolant
27.3 U.S. gal
103.5 ltr
Engine oil
9.8 U.S. gal
37 ltr
Damper
0.4 U.S. gal
1.5 ltr
Hydraulic oil
24.2 U.S. gal
91.5 ltr
Transmission, bevel gear, and steering system
23.8 U.S. gal
90 ltr
Final drive (each side)
8.2 U.S. gal
31 ltr
 
Operating Weight
 
 
Tractor weight
 
 
Including rated capacity of lubricant, coolant, full fuel tank, operator and standard equipment. 
 
 
 
 
 
Operating weight
 
 
Including strengthened SIGMADOZER®, giant ripper, ROPS cab, operator, standard equipment, rated capacity of lubricant, coolant, and full fuel tank.
 
 
 
Tractor weight
68,350 lb
31000 kg
Operating weight
87,100 lb
39500 kg
Ground pressure
15.4 psi
106 kPa / 1.08 kg/cm²
 
Hydraulic System
 
 
Closed-center load sensing system (CLSS) designed for precise and responsive control, and for efficient simultaneous operation.
 
 
 
 
 
Hydraulic control unit:
 
 
All spool control valves externally mounted beside the hydraulic tank. Variable piston pump with capacity (discharge flow) of 325 ltr/min 85.9 U.S. gal/min for steering and 180 ltr/min 47.6 U.S. gal/min for implemented at rated engine rpm. 
 
 
 
Relief valve setting
 
 
. . . for implement 27.5 MPa 280 kg/cm² 3,980 psi
 
 
. . . for steering 38.2 MPa 390 kg/cm² 5,550 psi
 
 
 
Control valves:
 
 
Spool control valve for SIGMADOZER®, Semi-U tilt dozer and Full-U
 
 
Positions:
Blade lift
Raise, hold, lower, and float
Blade tilt
Right, hold, and left
 
Additional control valve required for variable digging angle multi-shank ripper and giant ripper.
 
 
Positions:
Ripper lift
Raise, hold, and lower
Ripper tilt
Increase, hold, and decrease
 
Hydraulic cylinders
 
Double-acting, piston
Number of cylinders
Bore
Bore
Blade Lift / 2
4.33"
110 mm
Blade Tilt (Dual tilt) / 2
6.30"
160 mm
Blade Tilt (Single Tilt) / 1
6.30"
160 mm
Ripper Lift
7.09"
180 mm
Ripper Tilt / 1
7.87"
200 mm
Hydraulic oil capacity (refill):
 
 
SIGMADOZER
22.5 U.S. gal
85 ltr
Semi-U dozer
22.5 U.S. gal
85 ltr
Full-U dozer
22.5 U.S. gal
85 ltr
Ripper equipment (additional volume):
 
 
Multi-shank ripper
9.8 U.S. gal
37 ltr
Giant ripper
9.8 U.S. gal
37 ltr
0% Financing for 48 Months
Check out our financing special offering 0% for 48 months!
Sign Up To Join Our Email List