Find that New or Used piece of equipment you've been looking for!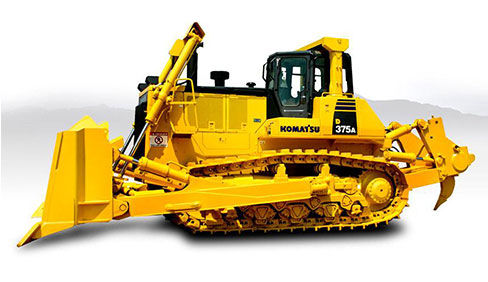 Double tap to zoom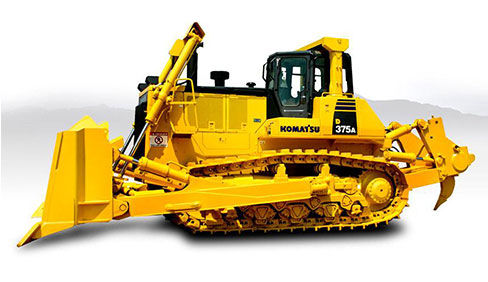 Features
The D375A-6 is a great combination of power and balance; power for digging and pushing, balance for stability on slopes and for ripping. Giant or multi-shank rippers are available as is a wide lighting and maintenance options specifically designed for the demands of the mining industry. A lock-up torque converter lets the D375A-6 to shift into direct drive when pushing to increase speed and production.
Specifications
Engine
 
 
Model
 
Komatsu SAA6D170E-5*
Type
 
4-cycle, water-cooled, direct injection
Aspiration
 
Turbocharged, air-to-air aftercooled, cooled EGR
Number of cylinders
 
6
Bore x stroke
6.69" x 6.69"
170 mm x 170 mm
Piston displacement
1,413 in³
23.15 ltr
Governor
 
All-speed and mid-range, electronic
Horsepower:
 
 
SAE J1995 - Gross
636 HP
474 kW
ISO 9249 / SAE J1349 - Net
610 HP
455 kW
Hydraulic fan at maximum speed - Net
580 HP
433 kW
Rated rpm
 
1800 rpm
Fan drive type
 
Hydraulic
Lubrication system:
 
 
Method
 
Gear pump, force lubrication
Filter
 
Full-flow
 
 
 
TORQFLOW Transmission
 
 
Komatsu TORQFLOW transmission consists of a water-cooled, 3-element, 1-stage, 1-phase torque converter with lockup clutch and a planetary gear, multiple-disc clutch transmission which is hydraulically actuated and force-lubricated for optimum heat dissipation. Gearshift lock lever and neutral safety switch help prevent accidental starts.
 
 
Gear
Forward
Reverse
1st
2.2 mph
 
3.5 km/h
2.9 mph
 
4.6 km/h
 
 
2nd
4.2 mph
 
6.8 km/h
5.5 mph
 
8.9 km/h
 
 
3rd L
5.0 mph
 
8.0 km/h
6.0 mph
 
9.7 km/h
 
 
3rd
7.3 mph
 
11.8 km/h
9.8 mph
 
15.8 km/h
 
 
 
 
 
Final Drive
 
 
Double-reduction final drive of spur and planetary gear sets to increase tractive effort and reduce gear tooth stresses for long final drive life. Segmented sprocket teeth are bolt-on for easy replacement.
 
 
 
 
 
Steering System
 
 
PCCS, joystick controlled, wet multiple-disc steering clutches are spring-loaded and hydraulically released.Wet multiple-disc, pedal/lever controlled steering brakes are spring-actuated hydraulically released and require no adjustment. Steering clutches and brakes are interconnected for easy, responsive steering.
 
 
 
 
 
Minimum turning radius
13'9"
4.2 m
 
Undercarriage
 
 
Suspension
 
Oscillating equalizer bar and pivot shaft
Track roller frame
 
Cylindrical, high-tensile-strength steel construction
Rollers and idlers
 
Lubricated track rollers
K-Bogie undercarriage
 
Lubricated track rollers are resiliently mounted to the track frame with a bogie suspension system whose oscillating motion is cushioned by rubber pads.
Extreme service track shoes
 
Lubricated tracks. Unique seals prevent entry of foreign abrasives into pin to bushing clearances to provide extended service life. Track tension is easily adjusted with grease gun.
Number of shoes (each side)
 
41
Grouser height:
 
 
Single grouser
3.7"
93 mm
Shoe width (standard)
24"
610 mm
Ground contact area
7,527 in²
48560 cm²
Ground pressure (tractor)
15.6 psi
108 kPa / 1.10 kg/cm²
Number of track rollers
 
8
Number of carrier rollers
 
2
Extreme service shoes:
Ground contact area:
Ground** pressure:
24'' / 610 mm 
 
 
Additional weight - 0 lb / 0 kg
7,527 in²
 
48560 cm²
21.0 psi
 
1.48 kgf/cm² / 145 kPa
 
 
28'' / 710 mm 
 
 
Additional weight - 1,500 lb / 680 kg
8,760 in²
 
56520 cm²
18.2 psi
 
1.28 kgf/cm² / 126 kPa
 
 
32'' / 810 mm 
 
 
Additional weight - 3,000 lb / 1360 kg
9,990 in²
 
64480 cm²
16.0 psi
 
1.13 kgf/cm² / 111 kPa
 
 
** Ground pressure based on tractor, Semi-U tilt dozer, giant ripper, cab, ROPS, operator, standard equipment, rated capacity of lubricant, coolant, and full fuel tank.
 
 
 
 
 
Coolant and Lubricant Capacity (refill)
 
 
Fuel tank
317.0 U.S. gal
1200 ltr
Coolant
31.7 U.S. gal
120 ltr
Engine
22.7 U.S. gal
86 ltr
Torque converter, transmission, bevel gear, and steering system
39.6 U.S. gal
150 ltr
Final drive (each side)
17.1 U.S. gal
65 ltr
 
 
 
Operating Weight
 
 
Tractor weight 
 
 
Including rated capacity of lubricant, coolant, full fuel tank, operator, and standard equipment.
117,290 lb
53200 kg
Including Semi-U tilt dozer, giant ripper, cab, ROPS, operator, standard equipment, rated capacity of lubricant, coolant, and full fuel tank.
157,940 lb
71640 kg
Ground pressure
21.0 psi
1.48 kg/cm² / 145 kPa
 
 
 
Hydraulic System
 
 
Hydraulic control unit:
 
 
Closed-center load sensing system (CLSS) designed for precise and responsive control, and for efficient simultaneous operation.
 
 
Hydraulic control unit::
 
 
All spool control valves externally mounted beside the hydraulic tank. Variable piston pump with capacity (discharge flow) of 366 ltr/min / 96.7 U.S. gal/min for implement at rated engine rpm.
 
 
Relief valve setting . . . for implement
3,980 psi
27.5 MPa
280 kg/cm²
 
 
Control valves:
 
 
Spool control valves for Semi-U tilt dozer and Full-U tilt dozer.
 
 
• Blade lift
 
Raise, hold, lower, and float
• Blade tilt
 
Right, hold, and left
Additional control valve required for variable digging angle multi-shank ripper and giant ripper.
 
 
• Ripper lift
 
Raise, hold, and lower
• Ripper tilt
 
Increase, hold, and decrease
Hydraulic cylinders:
 
 
Double-acting, piston
Number of cylinders:
Bore:
• Blade lift
2
5.5" / 140 mm
• Blade tilt
1
7.1" / 180 mm
• Ripper lift
2
7.9" / 200 mm
• Ripper tilt
2
7.1" / 180 mm
Hydraulic oil capacity (refill):
 
 
Semi-U dozer or U dozer
34.4 U.S. gal
130 ltr
Ripper equipment (additional volume):
 
 
Giant ripper (variable)
11.9 U.S. gal
45 ltr
Multi-shank ripper (variable)
11.9 U.S. gal
45 ltr
0% Financing for 48 Months
Check out our financing special offering 0% for 48 months!
Sign Up To Join Our Email List