Find that New or Used piece of equipment you've been looking for!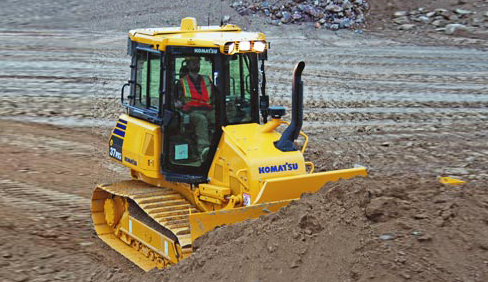 Double tap to zoom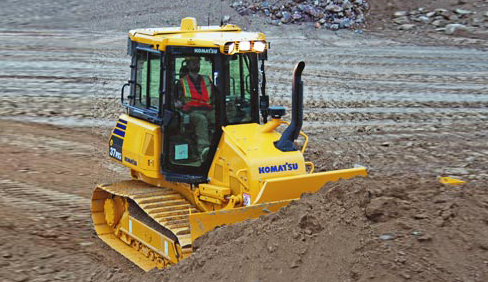 Features
Standard Intelligent Machine Control
Standard factory installed integrated 3D GNSS intelligent machine control system.
Improved Machine Control
Up to 9% more efficient dozer operation than comparable aftermarket machine control systems in start to finish grading tests.
Factory Installed Machine Control Components
Machine control components are factory installed and designed as an integral part of the base machine for improved durability.
Komatsu Quality
Machine control components and system validated to Komatsu's rigorous quality & durability standards.
Industry Standard Compatibility
Machine control system makes use of common industry design data file norms and supports typical base station communication.
Simple Operator Interface
Simple touch screen control box with multi-color customizable display.
3D GNSS Machine Control Standard
All on-machine components standard including control box, GNSS receiver/ radio, GNSS antenna, and enhanced inertial measurement unit sensor.
Finish Grade Performance
Enhanced sensor package and intelligent logic provides for finish grade accuracy in an integrated system without traditional blade mounted sensors.
Stroke Sensing Hydraulic Cylinders
Robust stroke sensing hydraulic cylinders employee proven Komatsu sensor technologies for accurate finish grade performance.
Enhanced Inertial Measurement Unit (IMU+)
Chassis mounted enhanced inertial measurement unit (IMU+) and intelligent logic provides for finish grade accuracy without blade mounted sensors.
Cab Top GNSS Antenna
No blade mounted GPS antennas, cables to worry about damaging with cab top GNSS antenna.
Automatic Dozing From Start To Finish
Load control intelligence controls blade elevation to improve productivity and minimize track slip by adjusting blade load. 1.0' from grade or 0.1' from grade – you can run in auto mode.
Intelligent Dozing Mode Settings
Operators are able to select between 4 distinct machine control operating modes to optimize performance to the application whether cutting, spreading, or other.
Operator Selectable Load Settings
Machine control load settings can be adjusted between presets to tailor response to material conditions.
Specifications
Engine
 
 
Model
 
Komatsu SAA4D95LE-6*
Type
 
4-cycle, water-cooled, direct injection
Aspiration
 
Variable flow, turbocharged, air-to-air aftercooled
Number of cylinders
 
4
Bore x stroke
3.75" x 4.52"
95 mm x 115 mm
Piston displacement
199 in³
3.26 ltr
Governor
 
All-speed, electronic
Horsepower:
 
 
SAE J1995 - Gross
91 HP
68 kW
ISO 9249 / SAE J1349 - Net
89 HP
66 kW
Rated rpm
 
2200 rpm
Fan drive type
 
Hydraulic
Lubrication system:
 
 
Method
 
Gear pump, force lubrication
Filter
 
Full-flow
 
 
 
Hydrostatic Transmission
 
 
Dual-path, hydrostatic transmission provides infinite speed changes up to 5.3 km/h / 8.5 mph. The variable capacity travel motors allow the operator to select the optimum speed to match specific jobs. Travel control lock lever and neutral switch.
 
 
Travel speed
 
 
(quick shift mode)*
Forward
Reverse
1st
0–2.1 mph
 

0–2.5 mph

 

0–3.4 km/h

 

0–4.1 km/h

2nd
0–3.5 mph
 

0–4.0 mph

 

0–5.6 km/h

 

0–6.5 km/h

3rd
0–5.3 mph
 

0–5.3 mph

 

0–8.5 km/h

 

0–8.5 km/h

Travel speed
 
 
(variable mode)
Forward
 

Reverse

 
0–5.3 mph
 

0–5.3 mph

 

0–8.5 km/h

 

0–8.5 km/h

Final Drive
 
 
In-shoe mounted axial piston type travel motors with integrated two stage planetary gear reduction. Compact in-shoe mount reduces risk of damaged by debris. Bolt-on sprocket ring.
 
 
 
 
 
Steering System
 
 
 
 
 
Steering SystemPalm Command Control System (PCCS) joystick control for all directional movements. Pushing the joystick forward results in forward machine travel, while pulling it rearward reverses the machine. Simply tilt the joystick to the left or right to make a turn. Tilting the joystick fully to the left or right activates counter-rotation.
 
 
 
 
 
Hydrostatic Transmission (HST) provides smooth powerful turns. Fully electronic control enables smooth control that can be adjusted in the monitor. The PCCS utilizes shift buttons to increase and decrease speed.
 
 
Minimum turning radius*
83"
2.1 m
 
 
 
Undercarriage
 
 
Suspension
 
Rigid type
Track roller frame
 
Monocoque, large section, durable construction
Rollers and idlers
 
Lubricated track rollers
Sealed and lubricated track
 
Track tension is easily adjusted with grease gun.
Tractor for inside mounted blade (PAT)
 
 
Number of track rollers (each side)
 
6
Number of carrier rollers (each side)
 
1
Type of shoes (standard)
 
Single grouser
Number of shoes (each side)
 
 
 
41
 
Grouser height
1.9"
47 mm
Shoe width (standard)
18"
460 mm
Ground contact area
3,180 in²
20516 cm²
Ground pressure
 
 
(with standard shoe)
5.93 psi
0.42 kgf/cm² / 40.9 kPa
Track gauge
5'2"
1570 mm
Length of track on ground
7'4"
2230 mm
Link pitch
6.1"
154 mm
 
 
 
Service Refill Capacities
 
 
Coolant
9.0 U.S. gal
34 ltr
Fuel tank
50.2 U.S. gal
190 ltr
Engine oil
2.9 U.S. gal
11 ltr
Hydraulic tank
16.9 U.S. gal
64 ltr
Final drive (each side)
0.9 U.S. gal
3.5 ltr
 
 
 
Hydraulic System
 
 
Closed-center Load Sensing System (CLSS) designed for precise and responsive control, and for efficient simultaneous operation.
 
 
Hydraulic control unit:
 
 
 
 
 
All spool control valves externally mounted remote to the hydraulic tank. Piston-type hydraulic pump with capacity (discharge flow) of 99 ltr/min / 26 U.S. gal/min at rated engine rpm.
 
 
 
 
 
Relief valve setting
3,974 psi
27.4 MPa / 280 kg/cm²
Hydraulic cylinders
 
Double-acting, piston type
Number of cylinders:
Bore
Bore
Blade lift / 2
3.0"
75 mm
Blade tilt / 1
 
 
3.5"
90 mm
 
Blade angle / 2
3.1"
80 mm
Blade pitch
 
1 adjustable linkage
Hydraulic oil capacity (refilling):
 
 
Power angle tilt dozer
15.9 U.S. gal
60 ltr
Control valves:
 
 
3-spool control valve for power angle tilt dozer.
 
 
 
 
 
Positions:
 
 
Blade lift
 
Raise, hold, lower, and float
Blade tilt
 
Right, hold, and left
Blade angle
 
Right, hold, and left
Additional control valve required for ripper.
 
 
Positions:
 
 
Ripper lift
 
Raise, hold and lower
0% Financing for 48 Months
Check out our financing special offering 0% for 48 months!
Sign Up To Join Our Email List