Find that New or Used piece of equipment you've been looking for!
Search Inventory Search Products & Site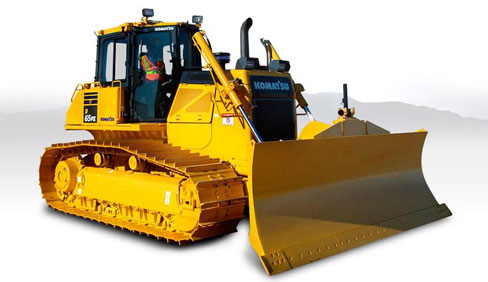 Double tap to zoom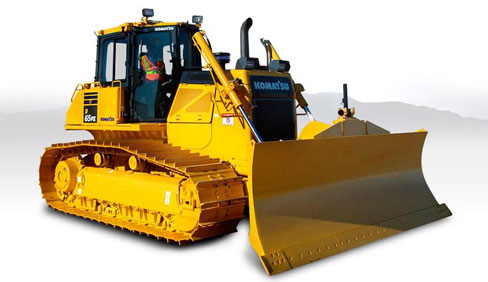 Features
The long track, low ground pressure D65PX-17 with hydrostatic steering (HSS) gives the operator incredible control and grading ability, especially in soft or wet conditions. The Tier 4 interim Komatsu engine coupled with the automatic transmission and lock-up torque converter can lower fuel consumption by up to 15%. When the operator takes his seat in the air suspension heated seat and takes command with his left and right palm control joysticks, he will have all the tools he needs to maximize productivity.
Specifications
| | | |
| --- | --- | --- |
| Engine |   |   |
| Model |   | Komatsu SAA6D114E-5* |
| Type |   | 4-cycle, water-cooled, direct injection |
| Aspiration |   | Komatsu variable geometry turbocharged, air-to-air aftercooled |
| No. of cylinders |   | 6 |
| Bore x stroke | 4.49" x 5.69" | 114 mm x 144.5 mm |
| Piston displacement | 540 in³ | 8.85 ltr |
| Governor |   | All-speed and mid-range, electronic |
| Horsepower: |   |   |
| SAE J1995 - Gross | 207 HP | 155 kW |
| ISO 9249 / SAE J1349 - Net | 205 HP | 153 kW |
| Hydraulic fan at maximum speed | 186 HP | 139 kW |
| Rated rpm |   | 1950 rpm |
| Fan drive type |   | Hydraulic |
| Lubrication system: |   |   |
| Method |   | Gear pump, force lubrication |
| Filter |   | Full-flow |
| *EPA Tier 4 Interim and EU stage 3B emissions certified |   |   |
|   |   |   |
| TORQFLOW Transmission |   |   |
| Komatsu TORQFLOW transmission consists of a water-cooled, 3-element, 1-stage, 2-phase, torque converter with lockup clutch, and a planetary gear, multiple-disc clutch transmission which is electronically controlled, hydraulically actuated and force-lubricated for optimum heat dissipation. Shift lock lever and neutral safety switch. |   |   |
|   |   |   |
| Travel speed | Forward | Reverse |
| 1st | 2.2 mph |   |
| 3.6 km/h | 2.7 mph |   |
| 4.4 km/h |   |   |
| 2nd | 3.4 mph |   |
| 5.5 km/h | 4.1 mph |   |
| 6.6 km/h |   |   |
| 3rdL | 4.5 mph |   |
| 7.2 km/h | 5.3 mph |   |
| 8.6 km/h |   |   |
| 3rd | 7.0 mph |   |
| 11.2 km/h | 8.3 mph |   |
| 13.4 km/h |   |   |
|   |   |   |
| Steering System |   |   |
| Palm Command Control System (PCCS) lever controls for all directional movements. Pushing the PCCS lever forward results in forward machine travel, while pulling it rearward reverses the machine. Simply tilt the PCCS lever to left to make a left turn. Tilt it to the right for a right turn. |   |   |
| Hydrostatic Steering System (HSS) is powered by steering planetary units and a hydraulic pump and motor. Counter-rotation turns are also available. Wet, multiple-disc, pedal-controlled service brakes are spring-actuated and hydraulically released. Gear shift lock lever also applies parking brake. |   |   |
|   |   |   |
| Minimum turning radius: |   |   |
| D65EX-17 | 6'3" | 1.9 m |
| D65EX-17 with PAT | 6'7" | 2.0 m |
| D65PX-17 | 7'3" | 2.2 m |
| D65WX-17 | 6'11" | 2.1 m |
|   |   |   |
| Undercarriage |   |   |
| Suspension |   | Oscillating equalizer bar and pivot shaft |
| Track roller frame |   | Monocoque, large section, durable construction |
| Rollers and idlers |   | Lubricated |
| Track shoes |   | Parallel Link Undercarriage System (PLUS) with lubricated rotating bushings for extended system wear life and lower maintenance costs. Track tension is easily adjusted with grease gun. |
|   |   |   |
| Final Drive |   |   |
| Double-reduction final drive of spur and planetary gear sets to increase tractive effort and reduce gear tooth stresses for long final drive life. Segmented sprocket teeth are bolt-on for easy replacement. |   |   |
|   |   |   |
| Hydraulic System |   |   |
| Closed-center load sensing system (CLSS) designed for precise and responsive control, and for efficient simultaneous operation. |   |   |
|   |   |   |
| Hydraulic control units: |   |   |
| All spool valves externally mounted beside the hydraulic tank. Piston type hydraulic pump with capacity (discharge flow) of 248 ltr/min / 65.5 U.S. gal/min at rated engine rpm. |   |   |
|   |   |   |
| Relief valve setting | 4,050 psi | 27.9 MPa / 285 kg/cm² |
| Control valves: |   |   |
| Spool control valves for SIGMADOZER or straight tilt dozer |   |   |
| Positions: |   |   |
| Blade lift |   | Raise, hold, lower, and float |
| Blade tilt |   | Right, hold, and left |
| Rear attachment |   | Raise, hold, and lower |
| Spool control valves for Power Angle Tilt dozer |   |   |
| Positions: |   |   |
| Blade lift |   | Raise, hold, lower, and float |
| Blade tilt |   | Right, hold, and left |
| Blade angle |   | Right, hold, and left |
| Rear attachment |   | Raise, hold, and lower |
| Hydraulic cylinders |   | Double-acting, piston |
| Number of cylinders - SIGMADOZER Straight Tilt Dozer: | Bore: |   |
| Blade lift - 2 | 3.3" | 85 mm |
| Blade tilt - 1 | 4.9" | 125 mm |
| Blade angle - 2 |   | N/A |
| Ripper lift - 1 | 4.9" | 125 mm |
| Pitch angle - 1 |   | 39° - 53° |
| Number of cylinders - Power Tilt Dozer: | Bore: |   |
| Blade lift - 2 | 3.5" | 90 mm |
| Blade tilt - 1 | 5.1" | 130 mm |
| Blade angle - 2 | 4.3" | 110 mm |
| Ripper lift - 1 | 4.9" | 125 mm |
| Pitch angle - 1 |   | 52° - 58° |
| Hydraulic oil capacity (refill): | 14.5 U.S. gal | 55 ltr |
| Ripper equipment (additional volume): |   |   |
| Multi-shank ripper | 1.8 U.S. gal | 7 ltr |
|   |   |   |
| Service Refill Capacities |   |   |
| Fuel tank | 109.6 U.S. gal | 415 ltr |
| Coolant | 14.3 U.S. gal | 54 ltr |
| Engine | 6.6 U.S. gal | 25 ltr |
| Torque converter, transmission, bevel gear, and steering system | 12.7 U.S. gal | 48 ltr |
| Final drive (each side): |   |   |
| D65EX-17 | 4.4 U.S. gal | 16.5 ltr |
| D65EX-17 with PAT | 4.4 U.S. gal | 16.5 ltr |
| D65PX-17 | 5.8 U.S. gal | 22 ltr |
| D65WX-17 | 5.8 U.S. gal | 22 ltr |
Sign Up To Join Our Email List