Find that New or Used piece of equipment you've been looking for!
Search Inventory Search Products & Site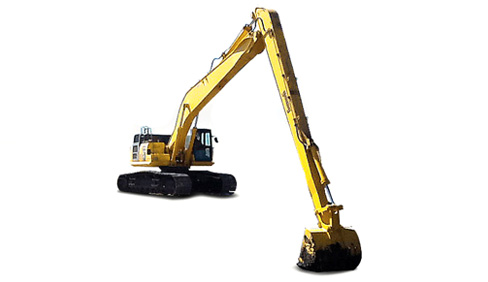 Double tap to zoom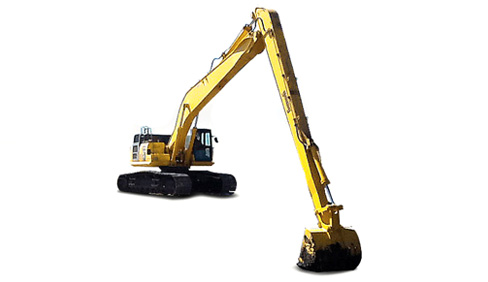 Features
Large Digging Force
The PC240LC-10 Super Long Front is equipped with the Power Max system. This function temporarily increases digging force for 8.5 seconds of operation.
Maximum arm crowd force (ISO):
121 kN (12.3 t) → 129 kN (13.2 t)  7 % UP (with Power Max.)
Maximum bucket digging force (ISO):
159 kN (16.2 t) → 172 kN (17.5 t)  8 % UP (with Power Max.)
Efficient Hydraulic System
The PC240LC-10SLF uses a Closed Center Load Sensing (CLSS) hydraulic system that improves fuel efficiency and provides quick response to the operator's demands. The PC240LC-10SLF also introduces new technology to enhance the engine and hydraulic pump control. This total control system matches the engine and hydraulics at the most efficient point under any load condition. There have also been improvements in the main valve and hydraulic circuit to reduce hydraulic loss, resulting in higher efficiency and lower fuel consumption.
Large Displacement High Efficiency Pump
Pump displacement has been increased, providing increased flow output as well as operation at the most efficient engine speed.
Idling Caution
To reduce unnecessary fuel consumption, an idling caution is displayed on the monitor if the engine idles for 5 minutes or more.
Working Mode Selection
The PC240LC-10 SLF excavator is equipped with six working modes (P, E, L, B, ATT/P and ATT/E). Each mode is designed to match engine speed, pump flow, and system pressure to the application. The PC240LC-10 SLF features a new mode (ATT/E) which allows operators to run attachments while in Economy mode.
Lifting Mode
When the Lifting mode is selected, the lift capacity is increased 7% by raising the hydraulic pressure.
Eco-Gauge Assists with Energy Saving Operations
The Eco-gauge and new fuel consumption gauge are viewed on the right side of the color monitor and assist the operator in maintaining low fuel consumption and environment friendly operation.
Newly Designed Wide Spacious Cab
The newly designed wide spacious cab features a high back, fully adjustable seat with a reclining backrest. The console and seat have an integrated design so that they move together and provide additional comfort for the operator. The new higher capacity operator seat has been enhanced to provide more comfort.
Heated
Air Suspension
Integrated Seat
Console Mounted Arm Rests
Low Vibration with Viscous Cab Mounts
The PC240LC-10 SLF uses viscous mounts for the cab that incorporate a longer stroke and the addition of a spring. The cab damper mounting combined with a high rigidity deck reduces vibration at the operator's seat.
Large High Resolution LCD Monitor Panel
A new large, user-friendly, high resolution LCD color monitor enables accurate and smooth work. Screen visibility and resolution are further improved compared to the previous LCD monitor panel. The switches and function keys are easy to operate and provide simple navigation through the monitor screens.
Data is displayed in 25 languages to support operators around the world.
Improved Attachment Control
The PC240LC-10 SLF is capable of storing up to ten different attachments in the new monitor panel. The name of each attachment can be changed for better tool management. Hydraulic flow rates can be easily adjusted for one-way and two-way flow attachments.
KDPF Regeneration Notification
The LCD color monitor panel provides the operator with the status of the KDPF regeneration, without interfering with daily operation. When the machine initiates active regeneration an icon will appear to notify the operator.
Abnormalities Display with Code
When an abnormality occurs an error code is displayed on the monitor. When an important code is displayed, a caution lamp blinks and warning buzzer sounds to alert the operator to take action. The monitor also stores a record of abnormalities for more effective troubleshooting.
Advanced Monitoring System
The monitor provides advanced monitoring diagnostics to assist with troubleshooting and reduce costly downtime. 
Maintenance Tracking
When the machine approaches or exceeds the oil and filter replacement interval, the monitor panel will display lights to inform the operator.
Rear-view Monitoring System (standard)
On the large LCD color monitor the operator can view the image from one camera that will display areas directly behind the machine. An optional 2-camera system is available.
Specifications
The details in this specification brochure are based on Dash 8 and Dash 10 models as indicated. Some attachments may be installed on prior models but specifications may vary. Contact Young Corporation for details.

■ Variations to the specifications in this brochure can be designed and produced in accordance with customer requirements by contacting Young Corporation with details.

■ SUPER LONG FRONT ATTACHMENTS are designed for "LIGHT DUTY" work only. Excavating work or heavy hoisting may result in side loads and other activities that will damage the machine.

■ Disassembly may be required due to transport restrictions.

■ Illustrations may include optional equipment.

■ Operating weights include additional counterweight when required.
Sign Up To Join Our Email List