Find that New or Used piece of equipment you've been looking for!
Search Inventory Search Products & Site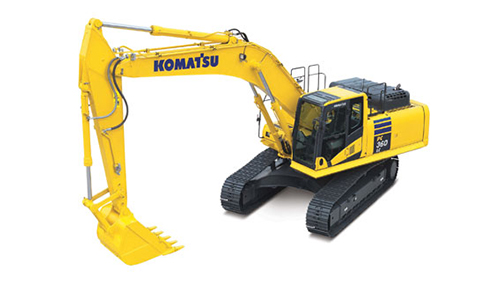 Double tap to zoom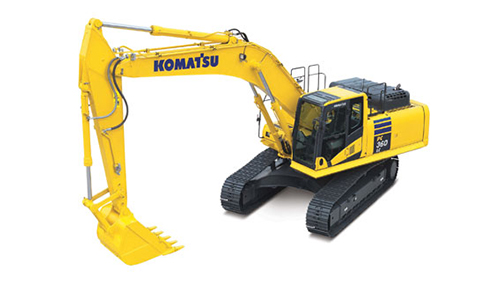 Features
Komatsu's Closed Center Load Sensing (CLSS) hydraulic system provides quick response and smooth operation to maximize productivity.
New engine and hydraulic pump control technology improves operational efficiency and lowers fuel consumption.
A powerful Komatsu SAA6D114E-5 engine provides a net output of 192 kW 257 HP. This engine is EPA Tier 4 Interim and EU stage 3B emissions certified.
Komatsu Variable Geometry Turbocharger (KVGT) uses a hydraulic actuator to provide optimum air flow under all speed and load conditions.
Komatsu Diesel Particulate Filter (KDPF) captures 90% of particulate matter and provides automatic regeneration that does not interfere with daily operation.
Two boom mode settings provide power mode for maximum digging force or smooth mode for fine grading operations.
Increased drawbar pull provides improved steering and manueverability.
Large LCD color monitor panel:
■ 7" high resolution screen
■ Provides "Eco-Guidance" for fuel efficient operation
■ Enhanced attachment control
Rearview monitoring system (Standard) Enhanced working modes are designed to match engine speed, pump delivery, and system pressure to the application.
Enhanced working environment
■ High back, heated, and air suspension operator seat
■ Integrated ROPS cab design (ISO 12117-2)
■ Cab meets ISO Level 1 Operator Protective Guard (OPG) top guard (ISO 10262)
Equipment Management Monitoring System (EMMS) continuously monitors machine operation and vital systems to identify machine issues and assist with troubleshooting.
Heavy duty boom design with large one piece castings provides increased strength and reliability.
Guardrails (standard) located on the machine upper structure provide a convenient work area in front of the engine.
Battery disconnect switch allows a technician to disconnect the power supply before servicing the machine.
Komatsu designed and manufactured components
KOMTRAX® equipped machines can send location, SMR and operation maps to a secure website utilizing wireless technology. Machines also relay error codes, cautions, maintenance items, fuel levels, and much more.
Specifications
| | | |
| --- | --- | --- |
| Engine |   |   |
| Model |   | Komatsu SAA6D114E-5* |
| Type |   | Water-cooled, 4-cycle, direct injection |
| Aspiration |   | Turbocharged, aftercooled, cooled EGR |
| Number of cylinders |   | 6 |
| Bore | 4.49" | 114 mm |
| Stroke | 5.69" | 144.5 mm |
| Piston displacement | 540 in³ | 8.85 ltr |
| Horsepower |   |   |
| SAE J1995 : Gross | 271 HP | 202 kW |
| ISO 9249/SAE J1349 : Net | 257 HP | 192 kW |
| Rated rpm |   | 1950 rpm |
| Fan drive type |   | Mechanical |
| Governor |   | All-speed control, electronic. |
| *EPA Tier 4 Interim and EU Stage 3B emissions certified. |   |   |
|   |   |   |
| Hydraulics |   |   |
| Type . . HydrauMind (Hydraulic Mechanical Intelligence New Design) system, closed-center system with load sensing valves and pressure compensated valves |   |   |
| Number of selectable working modes |   | 6 |
| Main pump: |   |   |
| Type |   | Variable displacement piston type |
| Pumps for |   | Boom, arm, bucket, swing, and travel circuits |
| Maximum flow | 141 U.S. gal/min | 535 ltr/min |
| Supply for control circuit |   | Self-reducing valve |
| Hydraulic motors: |   |   |
| Travel |   | 2 x axial piston motor with parking brake |
| Swing |   | 1 x axial piston motor with swing holding brake |
| Relief valve setting: |   |   |
| Implement circuits | 5,400 psi | 380 kgf/cm²/ 37.3 MPa |
| Travel circuit | 5,400 psi | 380 kgf/cm² / 37.3 MPa |
| Swing circuit | 4,050 psi | 285 kgf/cm²/ 27.9 MPa |
| Pilot circuit | 470 psi | 33 kgf/cm² / 3.2 MPa |
| Hydraulic cylinders: |   |   |
| Number of cylinders | Bore x Stroke x Rod Diameter | Bore x Stroke x Rod Diameter |
| Boom / 2 | 5.5" x 58.3" x 3.9" | 140 mm x 1480 mm x 100 mm |
| Arm / 1 | 6.3" x 71.9" x 4.3" | 160 mm x 1825 mm x 110 mm |
| Bucket / 1 - for 3.2 m 10'5" and 4.0 m 13'2" Arms | 5.5" x 50.6" x 3.9" | 140 mm x 1285 mm x 100 mm |
| Bucket / 1 - for 2.54 m 8'4" Arm | 5.9" x 50.6" x 4.3" | 150 mm x 1285 mm x 110 mm |
|   |   |   |
| Drives & Brakes |   |   |
| Steering control |   | Two levers with pedals |
| Drive method |   | Hydrostatic |
| Maximum drawbar pull | 66,191 lb | 290 kN / 29570 kgf |
| Gradeability | 35° | 70% |
| Maximum travel speed: (Auto-Shift) |   |   |
| High | 3.4 mph | 5.5 km/h |
| Mid | 2.8 mph | 4.5 km/h |
| Low | 2.0 mph | 3.2 km/h |
| Service brake |   | Hydraulic lock |
| Parking brake |   | Mechanical disc brake |
|   |   |   |
| Swing System |   |   |
| Drive method |   | Hydrostatic |
| Swing reduction |   | Planetary gear |
| Swing circle lubrication |   | Grease-bathed |
| Service brake |   | Hydraulic lock |
| Holding brake/Swing lock |   | Mechanical disc brake |
| Swing speed |   | 9.5 rpm |
| Swing torque | 82,313 ft. lbs. | 11386 kg•m |
|   |   |   |
| Undercarriage |   |   |
| Center frame | X-frame |   |
| Track frame | Box-section |   |
| Track type | Sealed |   |
| Track adjuster | Hydraulic |   |
| Number of shoes | 48 each side |   |
| Number of carrier rollers | 2 each side |   |
| Number of track rollers | 8 each side |   |
|   |   |   |
| Coolant and Lubricant Capacity (refilling) |   |   |
| Fuel tank | 159.8 U.S. gal | 605 ltr |
| Coolant | 9.7 U.S. gal | 37 ltr |
| Engine | 9.2 U.S. gal | 35.0 ltr |
| Final drive, each side | 2.4 U.S. gal | 9.0 ltr |
| Swing drive | 3.6 U.S. gal | 13.7 ltr |
| Hydraulic tank | 49.7 U.S. gal | 188 ltr |
| Hydraulic system | 96.4 U.S. gal | 365 ltr |
|   |   |   |
| Operating Weight (approximate) |   |   |
| Operating weight includes 6500 mm / 21'3" one-piece HD boom, 3185 mm / 10'5" arm, SAE heaped 1.96 m³ / 2.56 yd³ bucket, rated capacity of lubricants, coolant, full fuel tank, operator, and standard equipment. |   |   |
| Shoes | 28" | 700 mm |
| Operating Weight | 78,255 lb | 35496 kg |
| Ground Pressure | 8.31 psi | 0.59 kg/cm² |
| Shoes | 31.5'' | 800 mm |
| Operating Weight: | 79,093 lb | 35876 kg |
| Ground Pressure | 7.40 psi | 0.52 kg/cm² |
| Shoes | 33.5" | 850 mm |
| Operating Weight: | 79,930 lb | 36255 kg |
| Ground Pressure | 7.00 psi | 0.50 kg/cm² |
| Component Weights |   |   |
| Arm including bucket cylinder and linkage: |   |   |
| 3185 mm / 10'5" arm assembly | 3,882 lb | 1761 kg |
| 4020 mm / 13'2" arm assembly | 4,383 lb | 1988 kg |
| One piece HD boom including arm cylinder: |   |   |
| 6500 mm / 21'3" boom assembly | 6,912 lb | 3135 kg |
| Boom cylinders x 2 | 571 lb | 259 kg |
| Counterweight | 15,631 lb | 7090 kg |
| 1.96 m³ / 2.56 yd³ bucket - 54" width | 3,425 lb | 1554 kg |
Sign Up To Join Our Email List