Find that New or Used piece of equipment you've been looking for!
Search Inventory Search Products & Site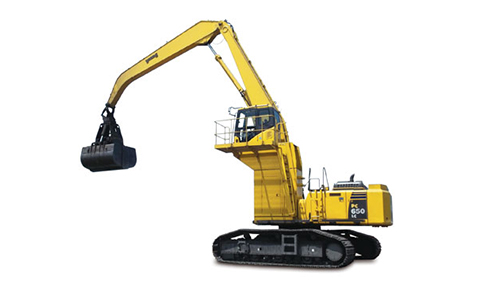 Double tap to zoom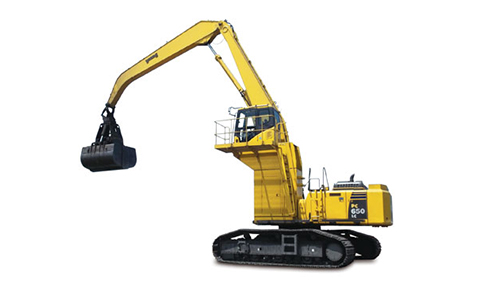 Features
For Use In:
■ Scrap Processing
– Stockpiling of recycled materials
– Transfer station material feeding
■ Bulk Material Handling
– Coal, coke, and ore
– Sand and gravel
– Grain<
Features:
■ Long track provides excellent stability
■ Dual function machine, grapple or magnet operation
■ Choice of elevated cabs for excellent all-around visibility
■ Two-pump system provides smooth, fast, compound movements maximizing productivity
■ Centralized lubrication points decrease service time
Material Handling System Includes:
■ Choice of 16.8 m / 55' or 18.3 m / 60' two-piece attachment with underslung hydraulic cylinders
■ Plumbing for grapple operation
■ Electrical cable for magnet operation
■ Centralized lube plumbing
■ Magnet connecting link
■ Manual tilt cab riser
■ Access platform with stairs and railings
■ Optional widened carbody for improved stability
■ Front window guard
■ Hydraulic control package provides functions to open, close, and rotate grapple. Includes control handles and switches in cab
■ Hydraulic-driven 25 kw generator
■ Generator controller and magnet instrumentation mounted in the cab riser. Load power gauge with operating switches installed in operator's cab
■ Parts, service, and operator's manuals
Hydraulics
Unique two-pump system provides smooth compound movement of the work equipment. Open Center Load Sensing System (OLSS) controls all pumps for efficient engine power use. This system also reduces hydraulic loss during operation.
Large Comfortable Cab
Low noise and vibration with cab damper mounting.
Environment-Friendly Clean Engine
The PC650LC-8 gets its exceptional power and work capacity from a Komatsu engine. Net output is 320 kW / 429 HP, providing increased hydraulic power and improved fuel efficiency.
Komatsu's SAA6D140E-5 engine is EPA Tier 3 emissions certified.
Specifications
| | | |
| --- | --- | --- |
| Engine |   |   |
| EPA Tier 3 and EU stage 3A emission certified. |   |   |
|   |   |   |
| Model |   | Komatsu SAA6D140E-5 |
| Type |   | Water-cooled, 4-cycle, direct injection |
| Aspiration |   | Turbocharged, aftercooled, cooled EGR |
| Number of cylinders |   | 6 |
| Bore | 5.51" | 140 mm |
| Stroke | 6.50" | 165 mm |
| Piston displacement | 930 in³ | 15.24 ltr |
| Governor |   | All-speed control, electronic |
| Horsepower: |   |   |
| SAE J1995 (Gross) | 496 HP | 370 kW |
| ISO9249 / SAE J1349 (Net) | 487 HP | 363 kW |
| Hydraulic fan at maximum speed (Net) | 454 HP | 338 kW |
| Rated rpm |   | 1800 rpm |
| Fan drive type |   | Hydraulic |
|   |   |   |
| Hydraulics |   |   |
| Type |   | EOLSS (Electronic Open-center Load Sensing System) |
| Number of selectable working modes |   | 3 |
| Main pump: |   |   |
| Type |   | Two (2) variable capacity piston pumps |
| Pumps for |   | Boom, arm, bucket, swing, and travel circuits |
| Maximum flow: | 2 x 130.5 U.S. gal/min | 2 x 494 ltr/min |
| Fan drive pump |   | Variable capacity piston type |
| Hydraulic motors: |   |   |
| Travel |   | 2 x axial piston motors with parking brake |
| Swing |   | 2 x axial piston motors with swing holding brake |
| Relief valve setting: |   |   |
| Implement circuits | 4,550 psi | 31.4 MPa |
| 320 kg/cm² |   |   |
| Travel circuit | 4,980 psi | 34.3 MPa |
| 350 kg/cm² |   |   |
| Swing circuit | 4,120 psi | 28.4 MPa |
| 290 kg/cm² |   |   |
| Heavy lift circuit | 4,980 psi | 34.3 MPa |
| 350 kg/cm² |   |   |
| Pilot circuit | 430 psi | 2.9 MPa |
| 30 kg/cm² |   |   |
| Hydraulic cylinders / Number of cylinders: | bore x stroke x rod diameter: | bore x stroke x rod diameter: |
| Boom / 2 | 8" x 68" x 5" | 202 mm x 1727 mm x 127 mm |
| Arm / 1 (55' front) | 9" x 72" x 6" | 229 mm x 1829 mm x 152 mm |
| Arm / 1 (68' front) | 8.5" x 72" x 6" | 216 mm x 1829 mm x 152 mm |
|   |   |   |
| Drives & Brakes |   |   |
| Steering control |   | Two levers with pedals |
| Drive method |   | Fully hydrostatic |
| Travel motor |   | Axial piston motor, in-shoe design |
| Reduction system |   | Planetary double reduction |
| Maximum drawbar pull | 125,660 lb | 559 kN 57000 kg |
| Gradeability |   | 70% |
| Maximum travel speed: |   |   |
| High | 2.6 mph | 4.2 km/h |
| Low | 1.7 mph | 2.8 km/h |
| Service brake |   | Hydraulic lock |
| Parking brake |   | Oil disc brake |
|   |   |   |
| Swing System |   |   |
| Drive method |   | Hydraulic motors (2) |
| Swing reduction |   | Planetary gear |
| Swing circle lubrication |   | Grease-bathed |
| Swing lock |   | Oil disc brake |
| Swing speed |   | 6.8 rpm |
| Swing torque | 209,461 ft. lbs. | 28968 kg•m |
|   |   |   |
| Undercarriage |   |   |
| Center frame |   | H-leg frame |
| Track frame |   | Box-section |
| Track type |   | Sealed |
| Track adjuster |   | Hydraulic |
| No. of shoes |   | 51 each side |
| No. of carrier rollers |   | 3 each side |
| No. of track rollers |   | 9 each side |
|   |   |   |
| Coolant and Lubricant Capacity (refilling) |   |   |
| Fuel tank | 258.9 U.S. gal | 980 ltr |
| Radiator | 26.4 U.S. gal | 100 ltr |
| Engine | 15.3 U.S. gal | 58 ltr |
| Final drive, each side | 5.3 U.S. gal | 20 ltr |
| Swing drive | 2 x 6.5 U.S. gal | 2 x 24.5 ltr |
| Hydraulic tank | 116.2 U.S. gal | 440 ltr |
|   |   |   |
| Operating Weight (approximate) |   |   |
| Operating weight w/o Grapple: | 16.8 m / 87796 kg | 55' / 193,555 lb |
| Operating weight w/o Grapple: | 20.7 m / 89339 kg | 68' / 196,955 lb |
Sign Up To Join Our Email List