Find that New or Used piece of equipment you've been looking for!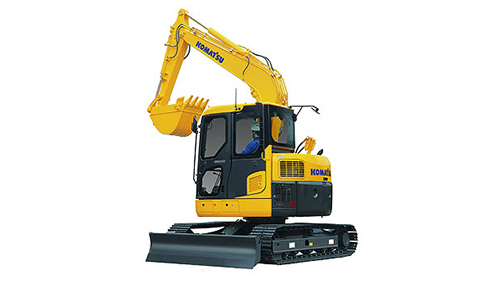 Double tap to zoom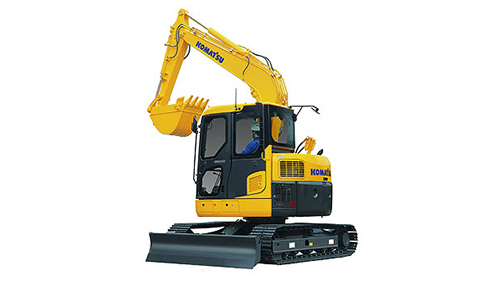 Features
Performance and Versatility
• Standard auxiliary hydraulics
• Five working modes: Power, Economy, Lifting, Attachment, Breaker
• Three track options: rubber, steel, roadliner
• Automatic two-speed travel
• ISO/SAE pattern change valve
Service and Maintenance
• Wide-opening engine hood and side covers
• Side-by-side radiator and oil cooler are easily inspected
• Extended lubrication intervals
• Ground level maintenance
• Easy access to engine oil filter, engine main fuel filter, and fuel drain valve
KOMTRAX® equipped machines can send location, SMR and operation maps to a secure website utilizing wireless technology. Machines also relay error codes, cautions, maintenance items, fuel levels, and much more.
Operator Comfort
• Large cab with air conditioner
• Fully adjustable suspension seat with retractable seat belt
• Pilot proportional joystick controls are low effort
• Easy-to-see 7" multi-function color monitor
• Low-noise cab
Value, Durability, and Strength
• KOMTRAX® wireless equipment monitoring system
• High strength X-track frame
• Castings are used for boom foot and tip
• O-ring face seal hydraulic fittings
• Moisture/dust resistant electrical connectors
Peace of Mind
• Spacious cab with excellent visibility
• Neutral engine start system
• Thermal and fan guards
• Low emission Komatsu engine with dual element air cleaner
• One key operates the ignition and all machine locks
Specifications
Engine
 
 
Model
 
Komatsu SAA4D95LE-5*
Type
 
Water cooled, 4-cycle, direct injection
Aspiration
 
Turbocharged, and air-to-air aftercooled
Number of cylinders
 
4
Piston displacement
199 in³
3.26 ltr
Horsepower - Net (ISO 9249/SAE J1349) @ 1950 rpm
55 HP
41 kW
*EPA Interim Tier 4 and EU Stage 3A certified.
 
 
 
 
 
Electrical System
 
 
Operating voltage
24 V
 
Battery
55 Ah/2 x 12
 
Alternator
35 A
 
Starte
4.5 kW
 
 
 
 
Hydraulic System
 
 
Type: HydrauMind (Hydraulic Mechanical Intelligence New Design) system,
Closed-center system with load-sensing valve and pressure-compensated valve
 
 
Main pumps:
 
 
Type
 
Variable displacement, axial piston
Maximum flow
42.3 u.s. gal/min
160 ltr/min
Type
 
Fixed displacement gear
Maximum flow
16.6 u.s. gal/min
63 ltr/min
Hydraulic motors:
 
 
Travel
 
2 x piston motor with parking brake
Swing
 
1 x piston motor with swing holding brake
Relief valve setting:
 
 
Implement, travel circuit
3,840 psi
26.5 MPa / 270 kgf/cm²
Swing circuit
2,990 psi
20.6 MPa / 210 kgf/cm²
Blade circuit (Raise)
1,850 psi
12.7 MPa / 130 kgf/cm²
Blade circuit (Lower)
3,060 psi
21.1 MPa / 215 kgf/cm²
 
 
 
Performance
 
 
Travel speed:
 
 
High
3.1 mph
5.0 km/hr
Low
1.8 mph
2.9 km/hr
Swing speed
 
10 rpm
Ground pressure
4.83 psi
0.34 kg/cm²
Max. drawbar pull
15,050 lbf
66.9 kN / 6820 kgf
Gradeability
 
35°
Bucket digging force (ISO)
13,780 lb
6250 kg
Arm crowd force (ISO)
7,760 lb
3520 kg
 
 
 
Swing System
 
 
Driven by
Hydraulic motor
 
Swing reduction
Planetary gear
 
Swing circle lubrication
Grease-bathed
 
Swing lock
Mechanical disc brake
 
 
 
 
Drives & Brakes
 
 
Steering control
Two levers with pedals
 
Drive method
Fully hydrostatic
 
Service brake
Hydraulic lock
 
Parking brake
Mechanical disc
 
 
 
 
Undercarriage
 
 
Center frame
X-frame
 
Track frame
Box-section
 
Track type
Sealed track
 
Track adjuster
Hydraulic
 
Number of carrier rollers (each side)
1
 
Number of track rollers (each side)
5
 
 
 
 
Refill Capacities
 
 
Fuel tank
33.0 u.s. gal
125 ltr
Radiator
2.6 u.s. gal
10 ltr
Engine
2.9 u.s. gal
11.0 ltr
Final drive, each side
0.3 u.s. gal
1.1 ltr
Swing drive
0.5 u.s. gal
2.0 ltr
Hydraulic tank
14.8 u.s. gal
56 ltr
 
 
 
Operating Weight
 
 
Operating weight including 3710 mm / 12'2" one-piece boom, 2250 mm / 7'5" arm, SAE heaped 0.28 m³ / 0.37 yd³ backhoe bucket, cab, rubber shoe, blade, rated capacity of lubricants, coolant, full fuel tank, operator, and other standard equipment.
 
 
Operating weight
16,240 lb
7365 kg
0% Financing for 48 Months
Check out our financing special offering 0% for 48 months!
Sign Up To Join Our Email List