Find that New or Used piece of equipment you've been looking for!
Search Inventory Search Products & Site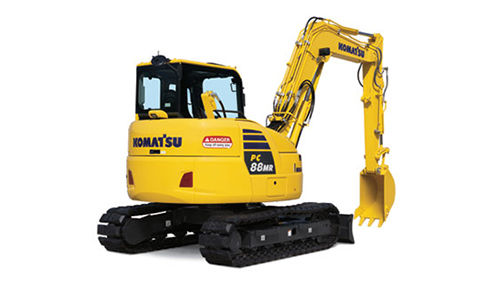 Double tap to zoom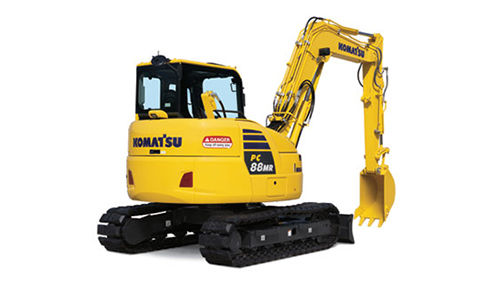 Features
Performance and Versatility
• Standard value added features provide operators with Flexible Jobsite Performance.
• New engine and hydraulic technology improves operational efficiency and lowers fuel consumption by up to 4%.*
A powerful Komatsu SAA4D95LE-6 engine provides a net output of 48.8 kW / 65.5 HP. This engine is EPA Tier 4 Final emissions certified.
Komatsu Diesel Oxidation Catalyst (KDOC) reduces particulate matter using passive regeneration 100% of the time.
No AdBlue®/DEF or DPF is required.
Variable Flow Turbocharger is designed to provide optimum air flow under all speed and load conditions.
Komatsu's Closed Center Load Sensing (CLSS) hydraulic system provides quick response and smooth operation to maximize productivity.
Enhanced working modes are designed to match engine speed, pump delivery, and system pressure to the application.
Large LCD color monitor panel:
• 7" high resolution screen
• Provides "Eco-Guidance" for fuel efficient operation
• Enhanced attachment control
Rearview monitoring system (standard)
Equipment Management Monitoring System (EMMS) continuously monitors machine operation and vital systems to identify machine issues and assist with troubleshooting.
Enhanced working environment
• High back, suspension operator seat
• Integrated ROPS cab design
• Cab meets ISO Level 1 Operator Protective Guard (OPG) top guard
• Aux jack and (2) 12V outlets
Minimum Swing Radius with swing boom allows the PC88MR-10 to fit in confined spaces at jobsites.
Wide access service doors provide easy access for ground level maintenance.
Standard Auxiliary Piping for Attachments
Operator Identification System
Battery disconnect switch allows a technician to disconnect the power supply before servicing the machine.
Komatsu designed and manufactured components
Convenient access for maintenance and daily checks.
Komatsu Auto Idle Shutdown helps reduce idle time and operating costs.
Standard 7'7" 2330mm blade
Standard pattern change valve
Two travel speeds
* All comparisons are to the prior model, unless otherwise stated.
Specifications
| | | |
| --- | --- | --- |
| Engine |   |   |
| Model |   | Komatsu SAA4D95LE-5 |
| Type |   | Water cooled, 4-cycle, direct injection |
| Aspiration |   | Turbocharged, and air-to-air aftercooled |
| Number of Cylinders |   | 4 |
| Piston displacement | 199 in³ |   |
| 3.26 ltr |   |   |
| Horsepower @ 1900 rpm: |   |   |
| Net (ISO 9249/SAE J1349) | 65.5 HP | 48.8 kW |
|   |   |   |
| Electrical System |   |   |
| Operation voltage | 24 V |   |
| Battery | 55 Ah / 2x12 V |   |
| Alternator | 35 A / 24 V |   |
| Starter | 4.5 kW / 24 V |   |
|   |   |   |
| Hydraulic System |   |   |
| Type - HydrauMind (Hydraulic Mechanical Intelligence New Design) system, Closed-center system with load-sensing valves and pressure-compensated valves |   |   |
| Main pump: |   |   |
| Type |   | Variable displacement, axial piston |
| Maximum flow | 42.3 U.S gal/min | 160 ltr/min |
| Hydraulic motors: |   |   |
| Travel |   |   |
| 2 x piston motor with parking brake |   |   |
| Swing |   | 1 x piston motor with swing holding brake |
| Relief valve setting: |   |   |
| Implement, travel circuit | 3,840 psi | 26.5 MPa |
| 270 kgf/cm² |   |   |
| Swing and blade circuit |   |   |
| 3,060 psi | 21.1 MPa |   |
| 215 kgf/cm² |   |   |
|   |   |   |
| Performance |   |   |
| Travel speed: |   |   |
| High | 3.2 mph | 5.1 km/hr |
| Low | 1.8 mph | 2.9 km/hr |
| Swing speed |   | 10.0 rpm |
| Ground pressure | 5.4 psi | 0.38 kg/cm² |
| Max. drawbar pull | 15,050 lbf | 66.9 kN / 6820 kgf |
| Gradeability |   | 35° |
| Bucket digging force (ISO) | 13,780 lb |   |
| 6250 kg |   |   |
| Arm crowd force (ISO) | 8,160 lb | 3700 kg |
|   |   |   |
| Swing System |   |   |
| Driven by | Hydraulic motor |   |
| Swing reduction |   |   |
| Planetary gear |   |   |
| Swing circle lubrication | Grease-bathed |   |
| Swing lock | Automatic, with oil immersed discs |   |
|   |   |   |
| Drives and Brakes |   |   |
| Steering control | Two levers with pedals |   |
| Drive method | Fully hydrostatic |   |
| Service brake | Hydraulic lock |   |
| Parking brake | Mechanical discs |   |
|   |   |   |
| Undercarriage |   |   |
| Center frame | X-frame |   |
| Track frame | Box-section |   |
| Track Type | Sealed track |   |
| Track adjuster | Hydraulic |   |
| Number of carrier rollers | 1 each side |   |
| Number of track rollers |   |   |
| 5 each side |   |   |
|   |   |   |
| Refill Capacities |   |   |
| Fuel tank | 33.0 U.S. gal | 125 ltr |
| Radiator | 2.6 U.S. gal | 10 ltr |
| Engine | 2.9 U.S. gal | 11 ltr |
| Final drive, each side | 0.3 U.S. gal | 1.1 ltr |
| Swing drive | 0.7 U.S. gal | 2.85 ltr |
| Hydraulic tank | 14.8 U.S. gal | 56 ltr |
|   |   |   |
| Operating Weight (approximate) |   |   |
| Operating weight including 3405 mm / 11'2" one-piece boom, 2100 mm / 6'11" arm, SAE heaped 0.28 m³ / 0.37 yd³ backhoe bucket, blade, rated capacity of lubricants, coolant, full fuel tank, operator, and standard equipment. |   |   |
| Operating Weight | 18,558 lb | 8420 kg |
Sign Up To Join Our Email List