Find that New or Used piece of equipment you've been looking for!
Search Inventory Search Products & Site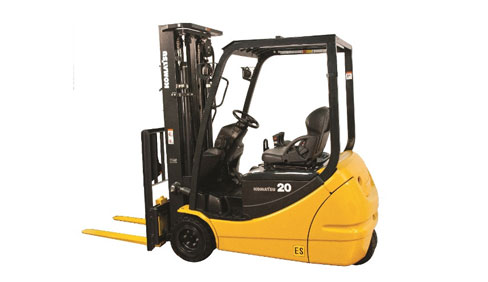 Double tap to zoom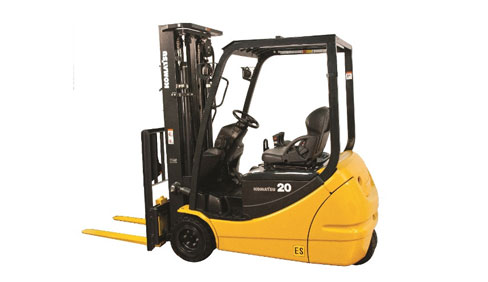 Features
Komatsu's electric counterbalanced forklifts bring bold improvements to the market with significant reductions in total operating costs while improving truck performance and productivity. Komatsu's AE50 and AM50 Series of four-wheel and three-wheel electric cushion and pneumatic tire forklifts feature innovative engineering ideas to show Komatsu's commitment to fulfilling customer needs, conserving or environment, and reducing total cost of ownership.
Specifications
| | | | |
| --- | --- | --- | --- |
| GENERAL | FB15MU-12 | FB18MU-12 | FB20MU-12 |
| Power Type | Electric | Electric | Electric |
| Operation Type | Sit-Down | Sit-Down | Sit-Down |
| Capacity @ 24 in. (600mm) Load Center | 3,000 lbs | 3,500 lbs | 4,000 lbs |
| Load Distance  From Center Axle (2 Stage) | 15.9 in  | 15.9 in  | 16.7 in |
| Wheelbase | 52.8 in | 54.7 in | 58.5 in |
|   |   |   |   |
| Weight |   |   |   |
|   |   |   |   |
| WEIGHT | FB15MU-12 | FB18MU-12 | FB20MU-12 |
| Service Weight | 7,010 lbs | 7,640 lbs | 8,600 lbs |
| Loaded Front | 8,760 lbs | 9,700 lbs | 11,070 lbs |
| Loaded Rear | 1,250 lbs | 1,440 lbs | 1,530 lbs |
| Unloaded Front | 3,420 lbs | 3,570 lbs | 4,190 lbs |
| Unloaded Rear | 3,590 lbs | 4,070 lbs | 4,410 lbs |
|   |   |   |   |
| Tires |   |   |   |
|   |   |   |   |
| TIRES | FB15MU-12 | FB18MU-12 | FB20MU-12 |
| Tire Type | Cushion | Cushion | Cushion |
| Front | 18 x 7 x 12.13 in | 18 x 7 x 12.13 in | 18 x 8 x 12.13 in |
| Rear | 15 x 5 x 11.25 in | 15 x 5 x 11.25 in | 15 x 5 x 11.25 in |
| Number of Wheels, Front/Rear | 2x / 2 (dual) | 2x / 2 (dual) | 2x / 2 (dual) |
| Front | 37 in | 37 in | 37.4 in |
| Rear | 6.7 in | 6.7 in | 6.7 in |
|   |   |   |   |
| Dimensions |   |   |   |
|   |   |   |   |
| DIMENSIONS | FB15MU-12 | FB18MU-12 | FB20MU-12 |
| Tilting Angle, Forward/Backward | 6/10 deg  | 6/10 deg  | 6/10 deg  |
| Lowered | 84.4 in | 84.4 in | 89 in |
| Extended | 167.5 in | 167.5 in | 168.1 in |
| Free Lift Height | 5.9 in | 5.9 in | 6.7 in |
| Maximum Fork Height | 129.9 in | 129.9 in | 129.9 in |
| Height Overhead Guard | 81.5 in | 81.5 in | 81.5 in |
| Length, with Standard Forks | 118.3 in | 120.9 in | 125.4 in  |
| Length to Fork Face | 76.2 in | 78.7 in | 83.3 in |
| Overall Width at Drive Tires | 43.8 in | 43.8 in | 45.8 in |
| Forks, Thickness x Width x Length | 1.4 x 3.9 x 42.1 in | 1.4 x 3.9 x 42.1 in | 1.4 x 4.8 x 42.1 in |
| Carriage Width/ITA Class | 38.2 in / II | 38.2 in / II | 38.2 in / II |
| Ground Clearance, Under Mast | 3.7 in | 3.7 in | 3.7 in |
| Ground Clearance, Center of Wheelbase | 4.9 in | 4.9 in | 4.9 in |
| Right Angle Stacking Aisle | 120.5/125.3 in | 122.8/127.7 in | 127.4/132.4 in |
| Turning Radius, Outside | 60.2 in | 62.6 in | 66.5 in |
|   |   |   |   |
| Performance |   |   |   |
|   |   |   |   |
| PERFORMANCE | FB15MU-12 | FB18MU-12 | FB20MU-12 |
| Travel Speed, Loaded/Unloaded | 10.0 / 11.0 mph | 10.0 / 11.0 mph | 9.0 / 10.0 mph |
| Lifting Speed, Loaded/Unloaded | 66.9 / 118.1 fpm | 63.0 / 118.1 fpm | 55.1 / 98.4 fpm |
| Lowering Speed, Loaded/Unloaded | 88.6 / 108.3 fpm | 88.6 / 108.3 fpm | 72.8 / 86.6 fpm |
| Maximum Drawbar Pull, Loaded | 2,150 lbs | 2,150 lbs | 2,040 lbs |
| Maximum Gradeability | 19% | 16% | 14% |
| Service Brake, Operation/Control | Foot/Hydraulic | Foot/Hydraulic | Foot/Hydraulic |
| Parking Brake, Operation/Control | Hand/Mechanical | Hand/Mechanical | Hand/Mechanical |
| Steering Type | Fully Hydrostatic Power Steering  | Fully Hydrostatic Power Steering  | Fully Hydrostatic Power Steering  |
|   |   |   |   |
| Drive |   |   |   |
|   |   |   |   |
| DRIVE | FB15MU-12 | FB18MU-12 | FB20MU-12 |
| Drive Motor (AC) | 6.0 x 2 HP | 6.0 x 2 HP | 6.0 x 2 HP |
| Pump Motor (AC) | 12.1 HP | 12.1 HP | 12.1 HP |
| Battery Voltage | 48 V | 48 V | 48 V |
| Battery Capacity, Maximum | 600 Ah/6hr | 600 Ah/6hr | 600 Ah/6hr |
| Minimum Battery Weight | 1,590 lbs | 1,590 lbs | 1,680 lbs |
| Maximum Battery Weight | 2,100 lbs | 2,100 lbs | 2,100 lbs |
|   |   |   |   |
| Other |   |   |   |
|   |   |   |   |
| OTHER | FB15MU-12 | FB18MU-12 | FB20MU-12 |
| Drive Motor Control | AC Inverter | AC Inverter | AC Inverter |
| Relief Pressure - Attachment | 2,300 psi | 2,300 psi | 2,300 psi |
| Hydraulic Oil Capacity | 6.1 US Gallons | 6.1 US Gallons | 6.1 US Gallons |
Sign Up To Join Our Email List