Find that New or Used piece of equipment you've been looking for!
Search Inventory Search Products & Site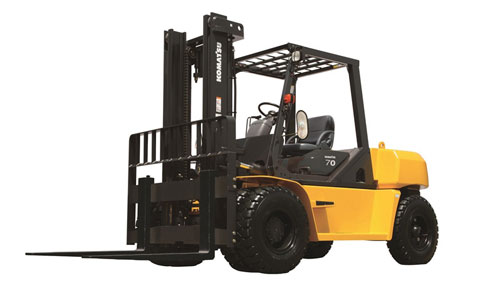 Double tap to zoom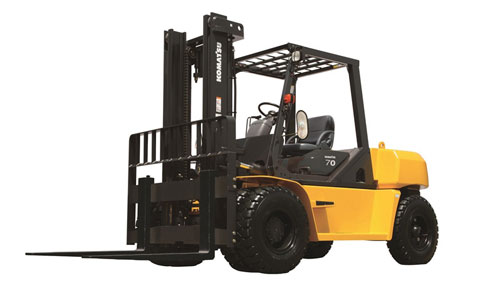 Features
The DX50 features Komatsu's designed and manufactured diesel engine, drive-train and wet disc brake system that all provide rugged and dependable life cycle cost benefits. A full suspension seat and dual-floating structure provide operator comforts that improve efficiencies and productivity. A unique Open-center Load Moderating Hydraulic System (OLMS) contributes to lower fuel consumption and lower total operating costs.
Specifications
| | | |
| --- | --- | --- |
| GENERAL | FD70T-10 | FD80T-10 |
| Power Type | Diesel | Diesel  |
| Operation Type | Sit-Down | Sit-Down |
| Capacity @ 24 in. (600mm) Load Center | 15,400 lbs | 18,000 lbs |
| Load Distance  From Center Axle (2 Stage) | 23 in | 25 in |
| Wheelbase | 90.6 in | 90.6 in |
|   |   |   |
| Weight |   |   |
|   |   |   |
| WEIGHT | FD70T-10 | FD80T-10 |
| Service Weight | 20,380 lbs | 24,050 lbs |
| Loaded Front | 31, 590 lbs | 36,520 lbs |
| Loaded Rear | 4,220 lbs | 5,170 lbs |
| Unloaded Front | 8,210 lbs | 9,410 lbs |
| Unloaded Rear | 12,170 lbs | 14,640 lbs |
|   |   |   |
| Tires |   |   |
|   |   |   |
| TIRES | FD70T-10 | FD80T-10 |
| Tire Type | Pneumatic | Pneumatic |
| Front | 8.25 - 15 - 14PR (I) | 8.25 - 15 - 18PR (I) |
| Rear | 8.25 - 15 - 14PR (I) | 8.25 - 15 - 18PR (I) |
| Number of Wheels, Front/Rear | 4X / 2 | 4x / 2 |
| Front | 57.9 in | 60.6 in |
| Rear | 64.6 in | 64.6 in |
|   |   |   |
| Dimensions |   |   |
|   |   |   |
| DIMENSIONS | FD70T-10 | FD80T-10 |
| Tilting Angle, Forward/Backward | 6 / 12 deg | 6 / 12 deg |
| Lowered | 101.8 in | 106.7 in |
| Extended | 171.3 in | 171.3 in |
| Free Lift Height | 8.7 in | 8.7 in |
| Maximum Fork Height | 118 in | 118 in |
| Height Overhead Guard | 96.1 in | 96.1 in |
| Length, with Standard Forks | 188.4 in | 192.5 in |
| Length to Fork Face | 140.4 in | 144.5 in |
| Overall Width at Drive Tires | 78 in | 80.7 in |
| Forks, Thickness x Width x Length | 2.6 x 5.9 x 48 in | 2.6 x 6.7 x 48 in |
| Carriage Width/ITA Class | 66.5 in / IV | 70.9 in / IV |
| Ground Clearance, Under Mast | 8.7 in | 9.3 in |
| Ground Clearance, Center of Wheelbase | 11.6 in | 11.6 in |
| Right Angle Stacking Aisle | 154.9 in | 160.8 in |
| Turning Radius, Outside | 131.9 in | 135.8 in |
|   |   |   |
| Performance |   |   |
|   |   |   |
| PERFORMANCE | FD70T-10 | FD80T-10 |
| Travel Speed, Loaded - 1st/2nd | 6.8 / 18 mph | 6.8 / 16.2 mph |
| Travel Speed, Unloaded - 1st/2nd | 7.5 / 19.3 mph | 7.5 / 19.3 mph |
| Lifting Speed, Loaded/Unloaded | 89 / 98 fpm | 79 / 89 fpm |
| Lowering Speed, Loaded/Unloaded | 94 / 98 fpm | 91 / 98 fpm |
| Maximum Drawbar Pull, Loaded | 9,890 lbs | 9,890 lbs |
| Maximum Gradeability | 29% | 24% |
| Service Brake, Operation/Control | Foot / Hydraulic | Foot / Hydraulic |
| Parking Brake, Operation/Control | Hand / Mechanical | Hand / Mechanical |
| Steering Type | FHPS | FHPS |
|   |   |   |
| Drive |   |   |
|   |   |   |
| DRIVE | FD70T-10 | FD80T-10 |
| Engine Manufacturer / Engine Model | Komatsu SAA4D95LE-5-A | Komatsu SAA4D95LE-5-A |
| Rated Output (SAE Net) | 93 HP @ 2,250 rpm | 93 HP @ 2,250 rpm |
| Maximum Torque (SAE Net) | 253 lb-ft @ 1,600 rpm | 253 lb-ft @ 1,600 rpm |
| # of Cylinders / Displacement | 4 / 199 cu in | 4 / 199 cu in |
| Fuel Tank Capacity | 37 US Gallons | 37 US Gallons |
|   |   |   |
| Other |   |   |
|   |   |   |
| OTHER | FD70T-10 | FD80T-10 |
| Relief Pressure, Maximum | 2,600 psi | 2,600 psi |
| Transmission | TORQFLOW | TORQFLOW |
Sign Up To Join Our Email List