Find that New or Used piece of equipment you've been looking for!
Search Inventory Search Products & Site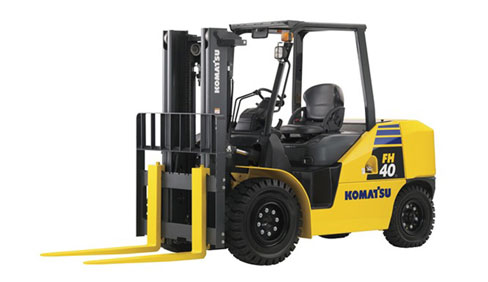 Double tap to zoom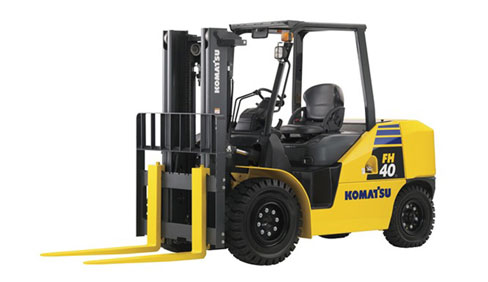 Features
This new diesel hydrostatic drive family achieves its durability and low costs of ownership from its rugged designs and field proven components. With Komatsu's hydrostatic drive system, standard wet disc brakes, and Closed-center Load Sensing hydraulic system (CLSS), the FH series achieves reduced costs of operation and reduced maintenance costs. The FH series lowers your cost of operation in a variety of demanding, high-cycle operations. Also equipped with KOMTRAX—Komatsu's exclusive information data management system.
Specifications
| | | | |
| --- | --- | --- | --- |
| GENERAL | FH40-1 | FH45-1 | FH50-1 |
| Power Type | Diesel | Diesel | Diesel |
| Operation Type | Sit-Down | Sit-Down | Sit-Down |
| Rated Capacity | 9,000 lbs | 10,000 lbs | 11,000 lbs |
| Rated Load Center | 23.6 in | 23.6 in | 23.6 in |
| Load Distance, Front Axle to Fork Face | 22.8 in | 23.2 in | 22.6 in |
| Wheelbase | 78.7 in | 78.7 in | 78.7 in |
|   |   |   |   |
| Weight |   |   |   |
|   |   |   |   |
| WEIGHT | FH40-1 | FH45-1 | FH50-1 |
| Service Weight | 13,867 lbs | 15,256 lbs | 16,270 lbs |
| Loaded Front | 13,228 lbs | 21,958 lbs | 54,086 lbs |
| Loaded Rear | 2,844 lbs | 3,285 lbs | 3,208 lbs |
| Unloaded Front | 5,710 lbs | 6,063 lbs | 6,393 lbs |
| Unloaded Rear | 8,157 lbs | 9,193 lbs | 9,877 lbs |
|   |   |   |   |
| Tires |   |   |   |
|   |   |   |   |
| TIRES | FH40-1 | FH45-1 | FH50-1 |
| Tire Type | Pneumatic | Pneumatic | Pneumatic |
| Front | 300 - 15 - 18PR (I) | 300 - 15 - 18PR (I) | 300 - 15 - 18PR (I) |
| Rear | 7 - 12 - 12PR (I) | 7 - 12 - 14PR (I) | 7 - 12 - 14PR (I) |
| Number of Wheels, Front/Rear | 2x / 2 | 2x / 2 | 2x / 2 |
| Front | 48.2 in | 48.2 in | 48.2 in |
| Rear | 44.1 in | 44.1 in | 44.1 in |
|   |   |   |   |
| Dimensions |   |   |   |
|   |   |   |   |
| DIMENSIONS | FH40-1 | FH45-1 | FH50-1 |
| Tilting Angle, Forward/Backward | 6 / 12 deg | 6 /12 deg | 6 /12 deg |
| Lowered | 82.9 in | 86.8 in | 86.8 in |
| Extended | 162.6 in | 162.6 in | 171.1 in |
| Free Lift Height | 5.9 in | 5.7 in | 5.5 in |
| Standar Lift Height | 118.1 in | 118.1 in | 118.1 in |
| Height Overhead Guard | 88.2 in | 88.2 in | 88.2 in |
| Length, with Standard Forks | 166.1 in | 168.1 in | 173.4 in |
| Length to Fork Face | 124 in | 126 in | 125.4 in |
| Overall Width at Drive Tires | 59.8 in | 59.8 in | 59.8 in |
| Forks, Thickness x Width x Length | 2.2 x 5.9 x 42.1 in | 2.2 x 5.9 x 42.1 in | 2.2 x 5.9 x 48 in |
| Carriage Width/ITA Class | 46.9 in / III | 46.9 in / III | 50 in / III |
| Ground Clearance, Under Mast | 5.7  in | 5.7 in | 5.7 in |
| Ground Clearance, Center of Wheelbase | 8.3 in | 8.3 in | 8.3 in |
| L1000 x W1200 pallet | 184.8 in | 187.2 in | 193.7 in |
| L1200 x W800 pallet | 190 in | 192.3 in | 193.7 in |
| Turning Radius, Outside | 112 in | 114 in | 115.2 in |
|   |   |   |   |
| Performance |   |   |   |
|   |   |   |   |
| PERFORMANCE | FH40-1 | FH45-1 | FH50-1 |
| Travel Speed, Loaded/Unloaded | 14.6 / 14.6 mph | 14.6 / 14.6 mph | 14.6 / 14.6 mph |
| Lifting Speed, Loaded/Unloaded | 95.8 / 99.4 fpm | 82.7 / 86.6 fpm | 82.7 / 86.6 fpm |
| Lowering Speed, Loaded/Unloaded | 98.4 / 98.4 fpm | 98.4 / 98.4 fpm | 98.4 / 98.4 fpm |
| Maximum Drawbar Pull, Loaded | 7,644 lbs | 7,644 lbs | 7,868 lbs |
| Maximum Gradeability | 33% | 29% | 28% |
| Service Brake, Operation/Control | Foot / Hydraulic | Foot / Hydraulic | Foot / Hydraulic |
| Parking Brake, Operation/Control | Hand / Mechanical | Hand / Mechanical | Hand / Mechanical |
| Steering Type | FHPS | FHPS | FHPS |
|   |   |   |   |
| Drive |   |   |   |
|   |   |   |   |
| DRIVE | FH40-1 | FH45-1 | FH50-1 |
| Engine Manufacturer / Engine Model | Komatsu SAA4D95LE-5 | Komatsu SAA4D95LE-5 | Komatsu SAA4D95LE-5 |
| Rated Output (SAE Net) | 68.1 HP @2,150 rpm | 68.1 HP @2,150 rpm | 68.1 HP @2,150 rpm |
| Maximum Torque (SAE Net) | 212 lb-ft @ 1,400 rpm | 212 lb-ft @ 1,400 rpm | 212 lb-ft @ 1,400 rpm |
| # of Cylinders / Displacement | 4 / 199 cu in | 4 / 199 cu in | 4 / 199 cu in |
| Fuel Tank Capacity | 27.7 US Gallons | 27.7 US Gallons | 27.7 US Gallons |
|   |   |   |   |
| Other |   |   |   |
|   |   |   |   |
| OTHER | FH40-1 | FH45-1 | FH50-1 |
| Battery, Voltage/Capacity | 24 V / 52 Ah 5hr | 24 V / 52 Ah 5hr | 24 V / 52 Ah 5hr |
| Relief Pressure, Maximum | 2,988 psi | 2,988 psi | 2,988 psi |
| Hydraulic Tank Capacity | 21.9 US Gallons | 21.9 US Gallons | 21.9 US Gallons |
| Transmission | Hydrostatic | Hydrostatic | Hydrostatic |
Sign Up To Join Our Email List