Find that New or Used piece of equipment you've been looking for!
Search Inventory Search Products & Site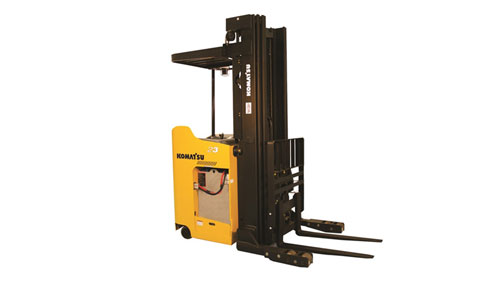 Double tap to zoom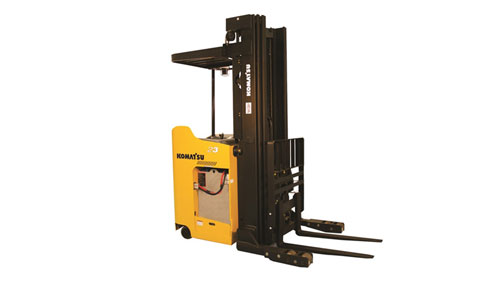 Features
Komatsu's FR Series of narrow aisle reach trucks feature new and innovative engineering ideas that show Komatsu's commitment to conserving our environment and reducing your overall cost of ownership. AC drive and hydraulic controls offer smooth and efficient control of critical truck functions while giving you the extended run times and improved truck efficiencies. The rugged and heavy-duty mast and pantograph mechanism are built to handle the toughest work cycle.
Specifications
| | | | |
| --- | --- | --- | --- |
| GENERAL | FR18K-3 | FR23K-3 | FR15K-3 |
| Power Type | Electric | Electric | Electric |
| Operation Type | Stand-Up | Stand-Up | Stand-Up |
| Capacity @ 24 in. (600mm) Load Center | 3,500 lbs | 4,500 lbs | 3,000 lbs |
|   |   |   |   |
| Weight |   |   |   |
|   |   |   |   |
| WEIGHT | FR18K-3 | FR23K-3 | FR15K-3 |
| Service Weight | 6,005 lbs | 6,420 lbs | 6,715 lbs |
|   |   |   |   |
| Tires and Wheels |   |   |   |
|   |   |   |   |
| TIRES & WHEEL | FR18K-3 | FR23K-3 | FR15K-3 |
| Drive Tire Size - Cushion Rubber | 13 x 5.5 in | 13 x 5.5 in | 13 x 5.5 in |
| Caster Wheel Size - Dual Polyurethrane | 7 x 2.87 in | 7 x 2.87 in | 7 x 2.87 in |
| Load Wheel Size - Tandem Polyurethrane x 2 | 5 x 4 in | 5 x 4 in | 5 x 4 in |
|   |   |   |   |
| Dimensions |   |   |   |
|   |   |   |   |
| DIMENSIONS | FR18K-3 | FR23K-3 | FR15K-3 |
| Tilting Angle, Forward/Backward | 3 / 4 deg | 3 / 4 deg | 3 / 4 deg |
| Lowered | 95 in | 95 in | 95 in |
| Extended | 260.3 in | 260.3 in | 260.3 in |
| Free Lift Height | 47.0 in | 47.2 in | 47 in |
| Maximum Fork Height | 210 in | 210 in | 210 in |
| Height Overhead Guard | 93.5 in | 93.5 in | 93.5 in |
| Length, with Standard Forks | 96.1 in | 97.6 in | 103.9 in |
| Length to Fork Face - Carriage Retracted | 54.1 in | 55.6 in | 61.9 in |
| Maximum Reach Stroke | 22.8 in | 22.4 in | 40.2 in |
| Overall Width, Outrigger I.D. (Min-Max) | 33-50 in | 33-50 in | 33-50 in |
| Overall Width, Outrigger O.D. (Min-Max) | 44-61 in | 44-60 in | 44-60 in |
| Forks, Thickness x Width x Length | 1.5 x 4 x 42 in | 1.75 x 4 x 42 in | 1.5 x 4 x 42 in |
| Carriage Width/ITA Class | 31.5 in / II | 31.5 in / II | 31.5 in / II |
| Step Height | 9.3 in | 9.3 in | 9.3 in |
| Ground Clearance, Under Mast | 2 in | 2 in | 2 in |
| Ground Clearance, Center of Wheelbase | 2 in | 2 in | 2 in |
| Wheelbase | 59 in | 60.1 in | 62 in |
| Right Angle Stacking Aisle | 100 in | 102 in | 108 in |
| Turning Radius, Outside | 69.4 in | 70.4 in | 72.4 in |
|   |   |   |   |
| Performance |   |   |   |
|   |   |   |   |
| PERFORMANCE | FR18K-3 | FR23K-3 | FR15K-3 |
| Travel Speed Loaded, Forks Leading/Trailing | 6.4 / 7.2 mph | 6.4 / 7.2 mph | 6.4 / 7.2 mph |
| Travel Speed Unloaded, Forks Leading/Trailing | 6.4 / 7.2 mph | 6.4 / 7.2 mph | 6.4 / 7.2 mph |
| Lifting Speed, Loaded/Unloaded | 70 / 120 fpm | 70 / 120 fpm | 70 / 120 fpm |
| Lowering Speed, Loaded/Unloaded | 95 / 87 fpm | 95 / 87 fpm | 95 / 95 fpm |
|   |   |   |   |
| Motors |   |   |   |
|   |   |   |   |
| MOTORS | FR18K-3 | FR23K-3 | FR15K-3 |
| Drive Motor (AC) | 8 HP | 8 HP | 8 HP |
| Pump Motor (AC) | 18.8 HP | 18.8 HP | 18.8 HP |
| Power Steering Motor (DC) | 0.5 HP | 0.5 HP | 0.5 HP |
|   |   |   |   |
| Battery |   |   |   |
|   |   |   |   |
| BATTERY | FR18K-3 | FR23K-3 | FR15K-3 |
| Battery Voltage | 36 V | 36 V | 36 V |
| Battery Capacity, Maximum | 930 Ah/6hr | 930 Ah/6hr | 930 Ah/6hr |
| Length | 16.4 in | 16.4 in | 16.4 in |
| Width | 38.7 in | 38.7 in | 38.7 in |
| Height | 32 in | 32 in | 32 in |
| Battery Weight, Minumum | 2,060 lbs | 2,060 lbs | 2,060 lbs |
| Battery Weight, Maximum | 2,305 lbs | 2,305 lbs | 2,305 lbs |
|   |   |   |   |
| Other |   |   |   |
|   |   |   |   |
| OTHER | FR18K-3 | FR23K-3 | FR15K-3 |
| Drive Motor Control | AC Inverter | AC Inverter | AC Inverter |
| Pump Motor Control | AC Inverter | AC Inverter | AC Inverter |
| Power Steering Motor Control | Transistor Chopper | Transistor Chopper | Transistor Chopper |
| Steering Type | On-Demand, Electric | On-Demand, Electric | On-Demand, Electric |
Sign Up To Join Our Email List