Find that New or Used piece of equipment you've been looking for!
Search Inventory Search Products & Site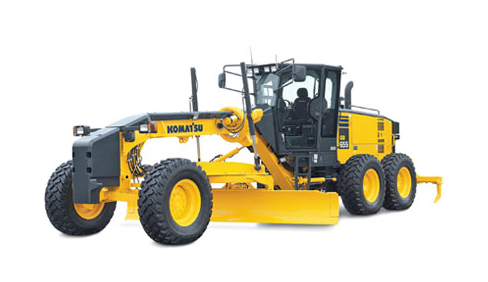 Double tap to zoom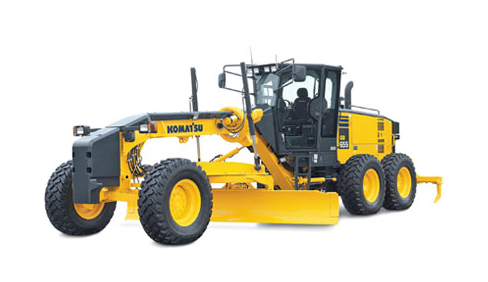 Features
New Automatic Dual-mode Transmission Includes a Non-stall Function
Makes smooth low-speed operation automatic
20% Less Fuel Consumptionwith Two Mode Operation
Fuel consumption decreased by 20% compared with Komatsu's conventional model typical test data.
Operator Friendly Cab
All-around visibility with low operation noise
Fuel Economy Features
• Selectable working modes, [P mode] and [E mode]
• Operator can choose [Auto mode] or [Manual mode] with the new automatic dual-mode transmission
More Comfortable Operator Environment
• The new hexangular cab with front Y pillar and rear layout side pillar affords all-around visibility of the moldboard and front
• Low operating noise – Noise levels in operating conditions are significantly lowered
KOMTRAX® equipped machines can send location, SMR and operation maps to a secure website utilizing wireless technology. Machines also relay error codes, cautions, maintenance items, fuel levels, and much more.
Maximum Productivity
• Environment friendly Komatsu SAA6D107E-1 engine complies with EPA Tier 3 emissions
• Smooth operation without the engine stalling at low speed and maximized productivity with the automatic dual-mode transmission
• Excellent blade controllability through a Closed-center Load Sensing (CLSS) hydraulic system with multifunctional control valves with float and Pilot Check Valve (PCV)
• Aggressive moldboard angles are possible with the long wheelbase
• Steering wheel and conventional mechanical levers provide predictable, low effort control
Easy Serviceability
• Easy radiator cleaning with a manually actuated reversing fan
• Easy fueling from ground level
• Large hinged lockable doors provide easy access to the engine and radiator
• KOMTRAX®
Specifications
| | | |
| --- | --- | --- |
| Engine |   |   |
| Model |   | Komatsu SAA6D107E-1* |
| Type |   | Water-cooled,4-cycle,direct injection |
| Aspiration |   | Turbocharged and air-to-air aftercooled |
| Number of cylinders |   | 6 |
| Bore | 4.21" | 107 mm |
| Stroke | 4.88" | 124 mm |
| Piston displacement | 408 in3 | 6.69 ltr |
| Gross horsepower (Manual mode): |   |   |
| P-mode |   |   |
| Gear 1-3 @2000 rpm | 183 HP | 136 kW |
| Gear 4-6 @2000 rpm | 203 HP | 151 kW |
| Gear 7-8 @2100 rpm | 221 HP | 165 kW |
| E-mode |   |   |
| Gear 1-3 @2000 rpm | 148 HP | 110 kW |
| Gear 4-6 @2000 rpm | 183 HP | 136 kW |
| Gear 7-8 @2000 rpm | 203 HP | 151 kW |
| Net flywheel horsepower** (Manual mode): |   |   |
| P-mode |   |   |
| Gear 1-3 @2000 rpm | 180 HP | 134 kW |
| Gear 4-6 @2000 rpm | 200 HP | 149 kW |
| Gear 7-8 @2100 rpm | 218 HP | 163 kW |
| E-mode |   |   |
| Gear 1-3 @2000 rpm | 145 HP | 108 kW |
| Gear 4-6 @2000 rpm | 180 HP | 134 kW |
| Gear 7-8 @2000 rpm | 200 HP | 149 kW |
| Max. torque @1450 rpm | 694 lb.ft. | 941 Nm 96.0 kg•m |
| Torque rise |   | 31% |
| Fan speed |   | Max. 1500 rpm |
| Air cleaner |   | 2-stage, dry-type |
| Electrical |   | 24 Volt with 90 Amp alternator |
| Battery |   | 2, low maintenance plus, 12 Volt, 1146 CCA |
| * EPA Tier 3 and EU Stage 3A emissions certified |   |   |
| ** Net flywheel HP output for standard SAE J1349 including air cleaner, alternator (not charging), water pump, lubricating oil, fuel pump, muffler and fan running at minimum speed. |   |   |
|   |   |   |
| Transmissions and Torque Converter |   |   |
| Full power shift transmission with integral free-wheeling stator torque converter and lockup. |   |   |
| Speeds (at rated engine speed) |   |   |
| Gear | Forward | Reverse |
| 1st | 2.1 mph |   |
| 3.4 km/h | 2.8 mph |   |
| 4.5 km/h |   |   |
| 2nd | 3.1 mph |   |
| 5.0 km/h | 5.7 mph |   |
| 9.2 km/h |   |   |
| 3rd | 4.3 mph |   |
| 7.0 km/h | 12.6 mph |   |
| 20.3 km/h |   |   |
| 4th | 6.3 mph |   |
| 10.2 km/h | 25.0 mph |   |
| 40.3 km/h |   |   |
| 5th | 9.6 mph |   |
| 15.4 km/h | - |   |
| 6th | 13.9 mph |   |
| 22.3 km | - |   |
| 7th | 19.0 mph |   |
| 30.6 km/h | - |   |
| 8th | 27.5 mph |   |
| 44.3 km/h | - |   |
|   |   |   |
| Front Axel |   |   |
| Type |   | Solid bar construction welded steel sections |
| Ground clearance at pivot | 2'0" | 620 mm |
| Wheel lean angle, right or left |   | 16° |
| Oscillation, total |   | 32° |
|   |   |   |
| Rear Axle |   |   |
| Alloy steel, heat treated, full floating axle with lock/unlock differential |   |   |
|   |   |   |
| Tandem Drive |   |   |
| Oscillating welded box section | 1'8" x 8" | 520 mm x 202 mm |
| Side wall thickness: |   |   |
| Inner | 0.87" | 22 mm |
| Outer | 0.75" | 19 mm |
| Wheel axle spacing | 5'0" | 1525 mm |
| Tandem oscillation |   | 11° forward, 13° reverse |
|   |   |   |
| Wheels, Front and Rear |   |   |
| Bearings | Tapered roller |   |
| Tires | 17.5R25 |   |
| Tire rims (demountable) | 13" one-piece rims |   |
|   |   |   |
| Steering |   |   |
| Hydraulic power steering providing stopped engine steering meeting SAE J53 and J1151. |   |   |
| Minimum turning radius | 24'3" | 7.4 m |
| Maximum steering range, right or left |   | 49° |
| Articulation, right or left |   | 25° |
|   |   |   |
| Brakes |   |   |
| Service brake | Foot operated, sealed wet disc brakes, hydraulically actuated on four tandem wheels, 13691 cm2 / 2,122 in2 total braking surface |   |
| Parking brake | Manually actuated, spring applied, hydraulically released caliper with transmission interlock |   |
|   |   |   |
| Frame |   |   |
| Front Frame Structure |   |   |
| Height | 11.8" | 300 mm |
| Width | 11.8" | 300 mm |
| Thickness | 0.55" | 14 mm |
|   |   |   |
| Drawbar |   |   |
| A-shaped, U-section press formed and welded construction for maximum strength with a replaceable drawbar ball. |   |   |
| Drawbar frame | 8.3" x 1" | 210 x 25 mm |
|   |   |   |
| Circle |   |   |
| Single-piece rolled ring forging. Six circle support shoes with replaceable wear surface. Circle teeth hardened on front 180¢ª of circle. |   |   |
| Diameter (outside) | 5'0" | 1530 mm |
| Circle reversing control hydraulic rotation |   | 360° |
|   |   |   |
| Moldboard |   |   |
| Hydraulic power shift fabricated from high carbon steel. Includes replaceable metal wear inserts, cutting edge and end bits. Cutting edge and end bits are hardened. |   |   |
| Dimensions | 14' x 26" x 0.87" | 4320 x 660 x 22 mm |
| Arc radius | 1'1" | 329 mm |
| Cutting edge | 6" x 0.63" | 152 x 16 mm |
|   |   |   |
| Blade Range |   |   |
| Circle center shift: |   |   |
| Right | 1'11" | 590 mm |
| Left | 1'11" | 590 mm |
| Moldboard side shift: |   |   |
| Right | 2'8" | 820 mm |
| Left | 2'8" | 820 mm |
| Maximum shoulder reach outside rear tires (frame straight) |   |   |
| Right | 6'4" | 1940 mm |
| Left | 6'4" | 1940 mm |
| Maximum lift above ground | 1'7" | 480 mm |
| Maximum cutting depth | 2'0" | 615 mm |
| Maximum blade angle, right or left |   | 90° |
| Blade tip angle | 40° forward | 5° backward |
|   |   |   |
| Hydraulic System |   |   |
| Load-sensing closed center hydraulics with variable displacement piston pump. Short stroke/low effort direct acting control valves with preselected maximum flow setting to each function. Double acting anti-drift check valves on blade lift, tip, circle shift, articulation, and leaning wheels. |   |   |
| Output @ 2000 rpm | 52.8 u.s.gal/min | 200 ltr/min |
| Standby pressure | 500 psi | 3.4 MPa 35 kg/cm2 |
| Maximum system pressure | 3,000 psi | 20.6 MPa 210 kg/cm2 |
|   |   |   |
| Instrumentation |   |   |
| Electric monitoring system with diagnostics: |   |   |
| Gauges - Standard: | articulation, engine coolant temperature, fuel level, speedometer, T/M shift indicator, engine tachometer torque converter oil temperature |   |
| Warning lights / Indicator - Standard: | battery charge, brake oil pressure, blade float, brake oil pressure, inching temperature, directional indicator, engine oil pressure, hydraulic oil temperature, | heater signal, lift arm lock, parking brake, differential lock, torque converter oil temperature, eco, P mode, fan reverse, rpm set, high beam, working lights |
| Optiona3 | blade accumulator |   |
|   |   |   |
| Service Refill Capacities |   |   |
| Fuel tank | 109.9 u.s. gal | 416 ltr |
| Cooling system | 6.6 u.s. gal | 24.9 ltr |
| Crank case | 6.1 u.s. gal | 23.1 ltr |
| Transmission | 11.9 u.s. gal | 45 ltr |
| Final drive | 4.5 u.s. gal | 17 ltr |
| Tandem housing (each) | 15.1 u.s. gal | 57 lt |
| Hydraulic system | 18.2 u.s. gal | 69 ltr |
| Circle reverse housing | 1.8 u.s. gal | 7 ltr |
|   |   |   |
| Operating Weight (approximate) |   |   |
| Standard configuration without pushplate |   |   |
| Total | 35,351 lb | 16035 kg |
| On rear wheels | 25,534 lb | 11582 kg |
| On front wheels | 9,817 lb | 4453 kg |
| With rear mounted ripper and front push plate: |   |   |
| Total | 39,505 lb | 17916 kg |
| On rear wheels | 27,944 lb | 12673 kg |
| On front wheels | 11,561 lb | 5243 kg |
| With mid-mounted scarifier, without front pushplate: |   |   |
| Total | 36,665 lb | 16631 kg |
| On rear wheels | 25,708 lb | 11661 kg |
| On front wheels | 10,957 lb | 4970 kg |
| • Front pushplate weight 1075 kg 2,371 lb |   |   |
| • Operating weight based on the standard machine configuration with 17.5R25 tires, 14' moldboard, full fuel tank, coolant, lubricants, and operator |   |   |
Sign Up To Join Our Email List