Find that New or Used piece of equipment you've been looking for!
Search Inventory Search Products & Site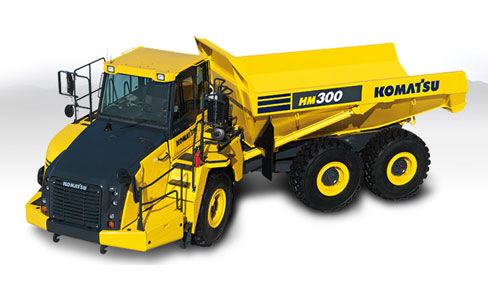 Double tap to zoom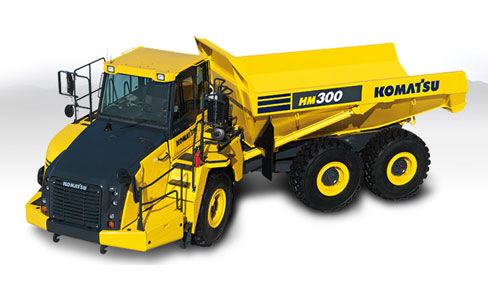 Features
An operator who likes cycle quickly through any ground conditions and do it in comfort will love the HM300-3. Komatsu Traction Control System coupled to the power of the Tier 4 interim Komatsu engine and two working modes give the operator the tools they'll need and to complete their job efficiently and profitably. A center located air suspension operator seat, a forward facing training seat, separate rear view monitor, and large LED multi-language monitor Provide the operator what he needs to operate productively in comfort for his full shift.
Specifications
| | | |
| --- | --- | --- |
| Engine |   |   |
|   |   |   |
| Model |   | Komatsu SAA6D125E-6* |
| Type |   | Water-cooled, 4-cycle |
| Aspiration |   | Komatsu variable geometry, turbo-charged, after-cooled, cooled EGR |
| Number of cylinders |   | 6 |
| Bore | 4.92" | 125 mm |
| Stroke | 5.91" | 150 mm |
| Piston displacement | 674 in3 | 11.04 ltr |
| Horsepower : |   |   |
| SAE J1995 | 332 HP | 248 kW |
| ISO 9249 / SAE J1349 | 324 HP | 242 kW |
| Rated rpm |   | 2000 rpm |
| Fan drive type |   | Hydraulic |
| Maximum torque | 1239 ft lbs | 1680 N•m |
| 71 kg•m |   |   |
| Fuel system |   | Direct injection |
| Governor |   | Electronically controlled |
| Lubrication system: |   |   |
| Method |   | Gear pump, force-lubrication |
| Filter |   | Full-flow type |
|   |   |   |
| Transmissions |   |   |
|   |   |   |
| Torque converter |   | 3-elements, 1-stage, 2-phase |
| Transmission |   | Full-automatic, counter-shaft type |
| Speed range |   | 6 speeds forward and 2 reverse |
| Lockup clutch |   | Wet, single-disc clutch |
| Forward |   | Torque converter drive in 1st gear, direct drive in 1st lockup and all higher gears |
| Reverse |   | Torque converter drive and direct drive in all gear |
| Shift control |   | Electronic shift control with automatic clutch modulation in all gear |
| Maximum travel speed | 36.4 mph | 58.6 km/h |
|   |   |   |
| Axles |   |   |
|   |   |   |
| Full time all wheel drive |   |   |
| Final drive type | Planetary gear |   |
| Ratios: |   |   |
| Differential | 3.154 |   |
| Planetary | 4.667 |   |
| Suspension System |   |   |
|   |   |   |
| Front | Hydro-pneumatic suspension |   |
| Rear | Combined hydro-pneumatic and rubber suspension system |   |
| Steering System |   |   |
|   |   |   |
| Type |   | Articulated type, fully hydraulic power steering with two double-acting cylinders |
| Supplementary steering |   | Automatically actuated, electrically powered |
| Minimum turning radius, wall to wall | 26'7" | 8.10 m |
| Articulation angle |   | 45° each direction |
|   |   |   |
| Cab |   |   |
|   |   |   |
| Standard | ISO3449 (FOPS) |   |
| ISO3471 (ROPS) |   |   |
|   |   |   |
| Brakes |   |   |
|   |   |   |
| Service brakes | Full-hydraulic control, oil-cooled multiple-disc type on front and center axles |   |
| Standard | ISO3450 |   |
| Parking brake | Spring applied, caliper disc type |   |
| Retarder | Front and center axle brakes act as retarder |   |
| Body |   |   |
|   |   |   |
| Capacity: |   |   |
| Struck16.9 | 17.5 yd3 | 13.4 m3 |
| Heaped (2:1, SAE) | 22.4 yd3 | 17.1 m3 |
| Payload | 30.9 U.S. tons | 28.0 metric tons |
| Material - high tensile strength steel | 184,925 psi | 130 kg/mm2 |
| Material thickness: |   |   |
| Bottom | 0.55" | 14 mm |
| Front | 0.31" | 8 mm |
| Sides | 0.47" | 12 mm |
| Target area - (inside length x width) | 17'3" x 8'10" | 5250 mm x 2685 mm |
| Heating |   |   |
|   |   |   |
| Hydraulic System |   |   |
|   |   |   |
| Hoist cylinder |   | Twin, telescopic type |
| Relief pressure | 4264 psi | 300 kg/cm2 / 29.4 Mpa |
| Hoist time |   | 10.5 sec |
|   |   |   |
| Weight (approximate) |   |   |
|   |   |   |
| Empty weight | 54,917 lbs | 24,910 kg |
| Gross vehicle weight | 116,823 lbs | 52,990 kg |
| Weight distribution: |   |   |
| Empty: |   |   |
| Front axle |   | 57.00% |
| Center axle |   | 23.00% |
| Rear axles |   | 20.00% |
| Loaded: |   |   |
| Front axle |   | 29.00% |
| Center axle |   | 36.50% |
| Rear axles |   | 34.50% |
|   |   |   |
| Tires |   |   |
|   |   |   |
| Standard tire | 23.5 R25 |   |
|   |   |   |
| Service Refill Capacities |   |   |
|   |   |   |
| Fuel tank | 102.6 U.S. gal | 388.3 L |
| Engine oil | 9.2 U.S. gal | 35 L |
| Torque converter, transmission and retarder cooling | 25.9 U.S. gal | 98 L |
| Differentials (total) | 18.9 U.S. gal | 71.5 L |
| Final drives (total) | 6.1 U.S. gal | 23 L |
| Hydraulic system | 27.2 U.S. gal | 103 L |
| Suspension (total) | 2.7 U.S. gal | 10.4 L |
Sign Up To Join Our Email List