Find that New or Used piece of equipment you've been looking for!
Search Inventory Search Products & Site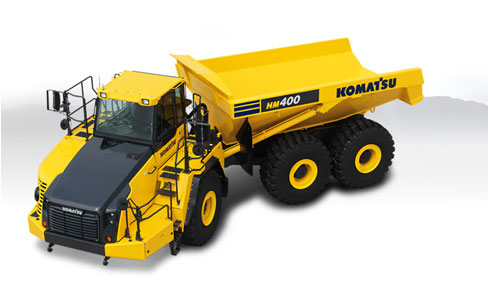 Double tap to zoom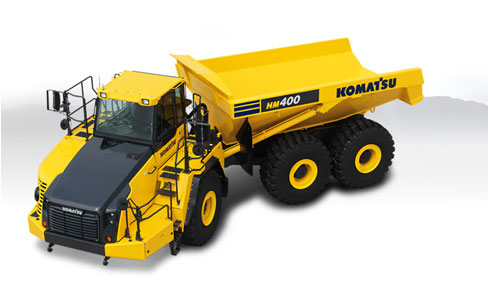 Features
The 44 ton capacity HM400-3 has a Tier 4 interim Komatsu engine which, combine with other energy saving improvements, can reduce fuel consumption up to 14%. The Komatsu Traction Control System ensures that a loaded HM400-3 will be able to pull through the most severe underfoot conditions. The operator can choose between Economy and Power modes to further tailor his machine performance to the job at hand. Among the cab improvements are a forward facing training seat and separate screen for the rear view camera.
Specifications
| | | |
| --- | --- | --- |
| Engine |   |   |
|   |   |   |
| Model |   | Komatsu SAA6D140E-6* |
| Type |   | Water-cooled, 4-cycle |
| Aspiration |   | Komatsu variable geometry, turbo-charged, after-cooled, cooled EGR |
| Number of cylinders |   | 6 |
| Bore | 5.51" | 140 mm |
| Stroke | 6.5" | 165 mm |
| Piston displacement | 928 in3 | 15.24 ltr |
| Horsepower : |   |   |
| SAE J1995 | 473 HP | 353 kW |
| ISO 9249 / SAE J1349 | 469 HP | 350 kW |
| Rated rpm |   | 2000 rpm |
| Fan drive type |   | Hydraulic |
| Maximum torque | 1669 ft lbs | 2263 Nユm |
| 231 kgユm |   |   |
| Fuel system |   | Direct injection |
| Governor |   | Electronically controlled |
| Lubrication system: |   |   |
| Method |   | Gear pump, force-lubrication |
| Filter |   | Full-flow type |
| Air cleaner |   | Dry type with double elements and precleaner (cyclonpack type), plus dust indicator |
|   |   |   |
| Transmissions |   |   |
|   |   |   |
| Torque converter |   | 3-elements, 1-stage, 2-phase |
| Transmission |   | Full-automatic, counter-shaft type |
| Speed range |   | 6 speeds forward and 2 reverse |
| Lockup clutch |   | Wet, single-disc clutch |
| Forward |   | Torque converter drive in 1st gear, direct drive in 1st lockup and all higher gears |
| Reverse |   | Torque converter drive and direct drive in all gear |
| Shift control |   | Electronic shift control with automatic clutch modulation in all gear |
| Maximum travel speed | 34.7 mph | 55.9 km/h |
|   |   |   |
| Axles |   |   |
|   |   |   |
| Full time all wheel drive |   |   |
| Final drive type | Planetary gear |   |
| Ratios: |   |   |
| Differential | 3.727 |   |
| Planetary | 4.941 |   |
|   |   |   |
| Suspension System |   |   |
| Front | Hydro-pneumatic suspension |   |
| Rear | Combined hydro-pneumatic and rubber suspension system |   |
|   |   |   |
| Steering System |   |   |
|   |   |   |
| Type |   | Articulated type, fully hydraulic power steering with two double-acting cylinders |
| Supplementary steering |   | Automatically actuated, electrically powered |
| Standard |   | ISO5010, SAE J1511 |
| Minimum turning radius, wall to wall | 28' 10" | 8.8 m |
| Articulation angle |   | 45° each direction |
| Cab |   |   |
|   |   |   |
| Standard | ISO3449 (FOPS) |   |
| ISO3471 (ROPS) |   |   |
|   |   |   |
| Brakes |   |   |
|   |   |   |
| Service brakes | Full-hydraulic control, oil-cooled multiple-disc type on front and center axles |   |
| Standard | ISO3450 |   |
| Parking brake | Spring applied, caliper disc type |   |
| Retarder | Front and center axle brakes act as retarder |   |
|   |   |   |
| Main Frame |   |   |
|   |   |   |
| Type | Articulated type, box-sectioned construction on front and rear Connected by strong torque tubes. |   |
| Body |   |   |
|   |   |   |
| Capacity: |   |   |
| Struck16.9 | 23.8 yd3 | 18.2 m3 |
| Heaped (2:1, SAE) | 31.4 yd3 | 24 m3 |
| Payload | 44.1 U.S. tons | 40 metric tons |
| Material - high tensile strength steel | 184,925 psi | 130 kg/mm2 |
| Material thickness: |   |   |
| Bottom | 0.55" | 14 mm |
| Front | 0.31" | 8 mm |
| Sides | 0.47" | 12 mm |
| Target area - (inside length x width) | 18' 7" x 10' 6" | 5667 mm x 3194 mm |
| Heating |   | Exhaust heating (optional) |
|   |   |   |
| Hydraulic System |   |   |
|   |   |   |
| Hoist cylinder |   | Twin, telescopic type |
| Relief pressure | 4264 psi | 275 kg/cm2 / 27 Mpa |
| Hoist time |   | 12.0 sec |
|   |   |   |
| Weight (approximate) |   |   |
|   |   |   |
| Empty weight | 74,207 lbs | 33,660 kg |
| Gross vehicle weight | 162,569 lbs | 73,740 kg |
| Weight distribution: |   |   |
| Empty: |   |   |
| Front axle |   | 56.40% |
| Center axle |   | 22.50% |
| Rear axles |   | 21.10% |
| Loaded: |   |   |
| Front axle |   | 29.40% |
| Center axle |   | 35.40% |
| Rear axles |   | 35.20% |
| Tires |   |   |
|   |   |   |
| Standard tire | 29.5 R25 |   |
|   |   |   |
| Service Refill Capacities |   |   |
|   |   |   |
| Fuel tank | 136.8 U.S. gal | 518 L |
| Engine oil | 9.3 U.S. gal | 35 L |
| Torque converter, transmission and retarder cooling | 33 U.S. gal | 125 L |
| Differentials (total) | 28.5 U.S. gal | 108 L |
| Final drives (total) | 8.5 U.S. gal | 32 L |
| Hydraulic system | 44.1 U.S. gal | 167 L |
| Suspension (total) | 5.7 U.S. gal | 21.4 L |
Sign Up To Join Our Email List