Find that New or Used piece of equipment you've been looking for!
Search Inventory Search Products & Site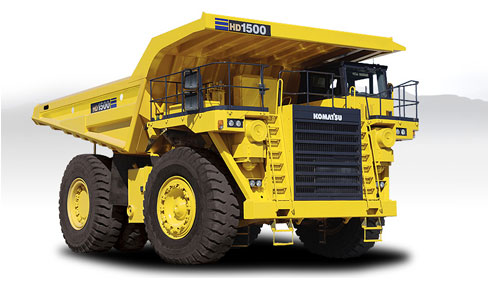 Double tap to zoom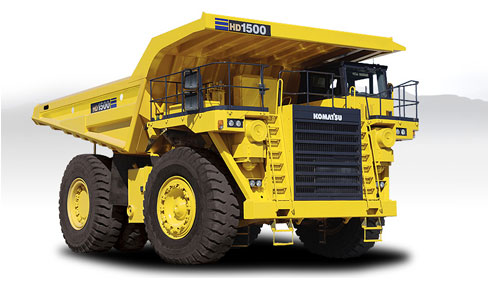 Features
The HD1500 has a capacity of 159 tons or 102 yd3. The fully automatic seven speed transmission with lock-up and skip-shift give the operator the speed and response he needs to meet production demands. On down hills, the operator has oil cooled multi-disc retarder and brakes to control his fully loaded truck. A tight turning radius and hydropneumatic suspension make the HD1500-7 very maneuverable in tight quarters and provide a cushioned ride for better load retention and more comfortable ride.
Specifications
| | | |
| --- | --- | --- |
| Engine |   |   |
|   |   |   |
| Model |   | Komatsu SDA12V160 |
| Type |   | Water-cooled, 4-cycle |
| Aspiration |   | Turbo-charged, after-cooled |
| Number of cylinders |   | 12 |
| Bore x Stroke | 6.26" x 7.48" | 159 mm x 190 mm |
| Piston displacement | 2,746 in³ | 45 ltr |
| Horsepower: |   |   |
| SAE J1995 / Gross | 1,487 HP | 1109 kW |
| ISO 9249 / SAE J1349 / Net | 1,406 HP | 1048 kW |
| Rated rpm |   | 1,900 rpm |
| Fan drive type |   | Mechanical |
| Maximum torque | 5,041 lb ft | 697 kg•m |
| Fuel system |   | Direct injection |
| Governor |   | Electronic control |
| Lubrication system: |   |   |
| Method |   | Gear pump, force-lubrication |
| Filter |   | Full-flow type |
| Air cleaner |   | Dry type with double elements and pre-cleaned, with dust indicator |
| Transmission |   |   |
|   |   |   |
| Torque converter |   | 3-elements, 1-stage, 2-phase |
| Transmission |   | Full-automatic, planetary-shaft type |
| Speed range |   | 7 speeds forward and 1 reverse |
| Lockup clutch |   | Wet, multiple-disc clutch |
| Forward |   | Torque converter drive 1st and 2nd gear with direct drive lock-up in 1st through 7th |
| Reverse |   | Torque converter drive |
| Shift control |   | Electronic shift control with automatic clutch modulation in all gears |
| Maximum travel speed | 36 mph | 58 km/h |
| Axles |   |   |
|   |   |   |
| Rear axles | Full-floating |   |
| Final drive type | Planetary gear |   |
| Ratios: |   |   |
| Differential | 2.647 |   |
| Planetary | 7.235 |   |
| Suspension System |   |   |
|   |   |   |
| Variable rate, hydropneumatic with integral rebound control. |   |   |
| Maximum front stroke | 14.76'' | 375 mm |
| Maximum rear stroke | 4.17" | 106 mm |
| Rear axle oscillation |   | +/-9.2° |
|   |   |   |
| Steering System |   |   |
|   |   |   |
| Type |   | Fully hydraulic power steering with two double-acting cylinders |
| Supplementary steering |   | Accumulator assist |
| Minimum turning radius | 40' | 12.2 m |
| Steering angle (left or right) |   | 41° |
| Brakes |   |   |
|   |   |   |
| Brakes meet ISO 3450 standard. |   |   |
| Service brakes: |   |   |
| Front |   | Fully hydraulic control, oil-cooled multiple-disc type |
| Rear |   | Fully hydraulic control, oil-cooled multiple-disc type |
| Parking brake |   | Spring applied, oil-released, 3 caliper dry disc mounted on input yoke to differential |
| Retarder |   | Oil-cooled, multiple-disc front and rear brakes act as retarder |
| Secondary brake |   | Manual - push button operated. |
| Automatically applied prior to hydraulic system pressure dropping below established level. |   |   |
| Braking surface | 24,668 in² | 159148 cm³ |
| Body |   |   |
|   |   |   |
| Capacity: |   |   |
| Struck | 71 yd³ | 54 m³ |
| Heaped (2:1, SAE) | 102 yd³ | 78 m³ |
| Nominal payload | 158.9 U.S. tons | 144.1 metric tons |
| Material |   | 400 Brinell hardness high tensile strength steel (front, sides, and bottom) |
| Structure |   | Flat floor configuration |
| Material thickness: |   |   |
| Bottom | 0.75" | 19 mm |
| Front | 0.47" | 12 mm |
| Sides | 0.35" | 9 mm |
| Target area (inside length x width) | 25'2"x 18'9" | 7670 mm x 5705 mm |
| Dumping angle |   | 45° |
| Height at full dump | 37'6" | 11440 mm |
| Heating |   | Exhaust heating |
| Hydraulic System |   |   |
|   |   |   |
| Hoist cylinder |   | Two, 3-stage telescopic type |
| Relief pressure | 2,750 psi | 19.0 MPa 193.4 kg/cm² |
| Hoist time: |   |   |
| Raise |   | 15 sec |
| Lower |   | 15 sec |
| Weight (approximate) |   |   |
|   |   |   |
| Empty weight | 232,144 lb | 105300 kg |
| Max. gross vehicle weight | 550,000 lb | 249478 kg |
| Not to exceed max. gross vehicle weight, including options, fuel and payload. |   |   |
| Empty weight is with 100% fuel and operator. |   |   |
| Weight distribution: |   |   |
| Empty: |   |   |
| Front axle |   | 48.60% |
| Rear axle |   | 51.40% |
| Loaded: |   |   |
| Front axle |   | 32.80% |
| Rear axle |   | 67.20% |
| Tires |   |   |
|   |   |   |
| Standard tire - 33.00 R51 |   |   |
|   |   |   |
| Service Refill Capacities |   |   |
|   |   |   |
| Fuel tank | 560 U.S. gal | 2120 ltr |
| Engine oil | 51 U.S. Gal | 193 ltr |
| Hydraulic system | 238 U.S. gal | 900 ltr |
| Differential | 78 U.S. gal | 297 ltr |
| Final drives (total) | 63.5 U.S. gal | 240 ltr |
| Transmission | 40.5 U.S. gal | 153 ltr |
Sign Up To Join Our Email List