Find that New or Used piece of equipment you've been looking for!
Search Inventory Search Products & Site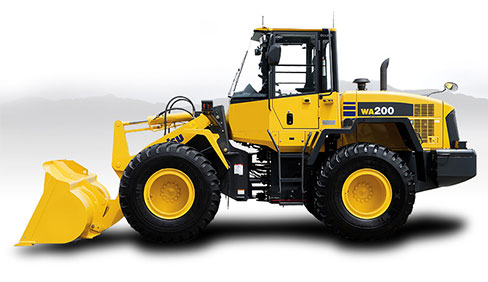 Double tap to zoom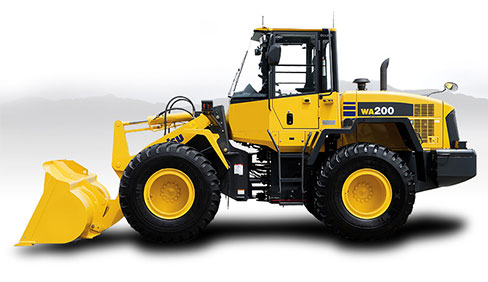 Features
If your operators want lots of power but with complete control in a small package, the WA200-6 is a machine they'll love. Hydrostatic drive gives the WA200-6 the advantage of having a fully automatic drive system without the weight and wear of a torque converter and geared transmission. The result is quick response, lots of power to dig and climb, the ability to control traction level and dynamic braking which saves wear on the wet multi-disc brakes.
Specifications
| | | |
| --- | --- | --- |
| Engine |   |   |
| Model |   | Komatsu SAA4D107E-2* |
| Type |   | Water-cooled, 4-cycle |
| Aspiration |   | Turbo-charged, after-cooled, cooled EGR |
| Number of cylinders |   | 4 |
| Bore x stroke | 107 mm x 124 mm | 4.21" x 4.88" |
| Piston displacement | 4.46 ltr | 272 in³ |
| Governor |   | All-speed, electronic |
| Horsepower: |   |   |
| SAE J1995 / Gross | 95.2 kW | 128 HP |
| ISO 9249/SAE J1349 / Net | 94 kW | 126 HP |
| Hydraulic fan at maximum speed / Net | 91 kW | 122 HP |
| Rated rpm |   | 2000 rpm |
| Fan drive method for radiator cooling |   | Hydraulic |
| Fuel system |   | Direct injection |
| Lubrication system: |   |   |
| Method |   | Gear pump, force-lubrication |
| Filter |   | Full-flow type |
| Air cleaner |   | Dry type with double elements and dust evacuator, plus dust indicator |
| *EPA Tier 4 Interim and EU stage 3B emissions certified |   |   |
| Transmission |   |   |
|   |   |   |
| Type . . . . . . . Hydrostatic, 1 pump, 2 motors with speed range select |   |   |
| Travel speed |   |   |
| (Measured with 20.5-25 tires): | Both Forward and Reverse |   |
| 1st | 5.2 - 14.3 km/h |   |
|   | 3.2 - 8.9 mph |   |
| 2nd | 14.3 km/h |   |
|   | 8.9 mph |   |
| 3rd | 23.2 km/h |   |
|   | 14.4 mph |   |
| 4th | 38.0 km/h |   |
|   | 23.6 mph |   |
| Axles and Final Drives |   |   |
|   |   |   |
| Drive system | Four-wheel drive |   |
| Front | Fixed, semi-floating |   |
| Rear | Center-pin support, semi-floating, 24° total oscillation |   |
| Reduction gear | Spiral bevel gear |   |
| Differential gear | Torque proportioning |   |
| Final reduction gear | Planetary gear, single reduction |   |
|   |   |   |
| Brakes |   |   |
|   |   |   |
| Service brakes | Hydraulically-actuated, wet disc brakes actuate on four wheels. |   |
| Parking brake | Wet, multi-disc brake on transfer output shaft. |   |
| Secondary brake | One of dual service brake circuits is commonly used |   |
|   |   |   |
| Steering System |   |   |
| Type |   | Articulated type, fully-hydraulic power steering |
| Steering angle |   | 38° each direction (40° to max end stop) |
| Minimum turning radius at the center of outside tire | 4880 mm | 16'0" |
| Hydraulic System |   |   |
|   |   |   |
| Steering system: |   |   |
| Hydraulic pump |   | Gear type pump |
| Capacity (at rated rpm) | 85 ltr/min | 22.5 U.S. gal/min |
| Relief valve setting | 20.6 MPa |   |
| 210 kgf/cm² | 3,000 psi |   |
| Hydraulic cylinders: |   |   |
| Type |   | Double-acting, piston type |
| Number of cylinders |   | 2 |
| Bore x stroke | 70 mm x 453 mm | 2.76" x 17.8" |
| Loader control: |   |   |
| Hydraulic pump |   | Gear type pump |
| Capacity | 54 ltr/min | 14.3 U.S. gal/min |
| Relief valve setting | 20.6 MPa |   |
| 210 kgf/cm² | 3,000 psi |   |
| Hydraulic cylinders: |   |   |
| Type |   | Double-acting, piston type |
| Number of cylinders | bore x stroke | bore x stroke |
| Lift cylinder - 2 | 125 mm x 673.5 mm | 4.9" x 26.5" |
| Bucket cylinder - 1 | 130 mm x 493 mm | 5.1" x 19.4" |
| Control valve |   | 2-spool type |
| Control positions: |   |   |
| Boom |   | Raise, hold, lower, and float |
| Bucket |   | Tilt-back, hold, and dump |
| Hydraulic cycle time (rated load in bucket): |   |   |
| Raise |   | 5.7 sec |
| Dump |   | 1.9 sec |
| Lower (Empty) |   | 3.2 sec |
|   |   |   |
| Service Refill Capacities |   |   |
|   |   |   |
| Cooling system | 24.6 ltr | 6.5 U.S. gal |
| Fuel tank | 177.0 ltr | 46.8 U.S. gal |
| Engine | 15.5 ltr | 4.1 U.S. gal |
| Hydraulic system | 58.0 ltr | 15.3 U.S. gal |
| Axle front | 18.5 ltr | 4.9 U.S. gal |
| Axle rear | 18.0 ltr | 4.8 U.S. gal |
| Transfer | 5.0 ltr | 1.3 U.S. gal |
Sign Up To Join Our Email List