Find that New or Used piece of equipment you've been looking for!
Search Inventory Search Products & Site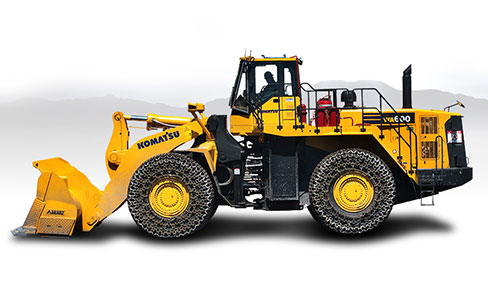 Double tap to zoom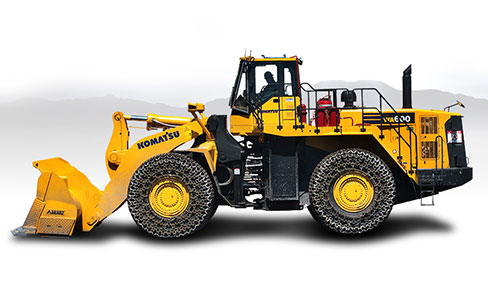 Features
Komatsu-integrated design for exceptional value, reliability and versatility. Hydraulics, powertrain, frame, and all other major components are engineered by Komatsu. You get a machine whose components are designed to work together for higher production and reliability. Now add the Komatsu designed Steel Mill Arrangement with guarding and heat protection specifically matched to the WA600-6 resulting in a loader that handles hot slag and stays working longer for increased productivity.
Specifications
| | | |
| --- | --- | --- |
| Engine |   |   |
|   |   |   |
| Model |   | Komatsu SAA6D170E-5 |
| Type |   | Water-cooled, 4-cycle |
| Aspiration |   | Turbocharged, aftercooled, cooled EGR |
| Number of cylinders |   | 6 |
| Bore x stroke | 6.69" x 6.69" | 170 mm x 170 mm |
| Piston displacement | 1413 in³ | 23.15 ltr |
| Governor |   | all-speed, electronic |
| Horsepower: |   |   |
| SAEJ1995 - Gross | 530 HP | 396 kW |
| ISO 9249 / SAEJ1349 - Net | 527 HP | 393 kW |
| Hydraulic fan at maximum speed | 502 HP | 374 kW |
| Rated rpm |   | 1800 rpm |
| Fan drive method for radiator cooling |   | Hydraulic |
| Fuel system |   | Direct injection |
| Lubrication system: |   |   |
| Method |   | Gear pump, force lubrication |
| Filter |   | Full-flow type |
| Air cleaner |   | Dry type with double elements and dust evacuator, plus dust indicator |
| Transmission |   |   |
|   |   |   |
| Torque converter Type |   | 3-element, single-stage, double-phase |
| Transmission Type |   | Full-powershift, planetary type |
| Travel speed measured with 35/65-33 tires: | Forward | Reverse |
| 1st | 4.2 mph  | 4.5 mph  |
|   | 6.7 km/h | 7.3 km/h |
|   |   |   |
| 2nd | 7.3 mph  | 8.0 mph  |
|   | 11.7 km/h | 12.8 km/h |
|   |   |   |
| 3rd | 12.6 mph  | 13.7 mph  |
|   | 20.3 km/h | 22.0 km/h |
|   |   |   |
| 4th | 21.0 mph  | 23.0 mph  |
|   | 33.8 km/h | 37.0 km/h |
| Axles and Final Drives |   |   |
|   |   |   |
| Drive system |   | Four-wheel drive. |
| Front |   | Fixed, full-floating. |
| Rear |   | Center-pin support, full-floating, 26° total oscillation. |
| Reduction gear |   | Spiral bevel gear. |
| Differential gear |   | Conventional type |
| Final reduction gear |   | Planetary gear, single reduction |
|   |   |   |
| Brakes |   |   |
|   |   |   |
| Service brakes: |   | Hydraulically actuated, wet disc brakes actuate on four wheels |
| Parking brake: |   | Wet disc brake |
| Emergency brake |   | Parking brake is commonly used |
|   |   |   |
| Steering System |   |   |
|   |   |   |
| Type |   | Articulated type, full-hydraulic power steering |
| Steering angle |   | 43° each direction. |
| Minimum turning radius at the center of outside tire | 23'3" | 7075 mm |
| Hydraulic System |   |   |
|   |   |   |
| Steering system: |   |   |
| Hydraulic pump |   | Piston pump |
| Capacity at rated rpm | 43.1 U.S. gal/min | 163 ltr/min |
| Relief valve setting | 4,980 psi | 350 kgf/cm² |
| Hydraulic cylinders: |   |   |
| Type |   | Double-acting, piston type |
| Number of cylinders |   | 2 |
| Bore x stroke | 4.5" x 20" | 115 mm x 510 mm |
| Loader control: |   |   |
| Hydraulic pump |   | Piston pump |
| Capacity at rated rpm | 63.1 + 63.1 U.S. gal/min | 239 + 239 ltr/min |
| Relief valve setting | 4,980 psi | 350 kgf/cm² |
| Hydraulic cylinders: |   |   |
| Type |   | Double-acting, piston type |
| Number of cylinders: | Bore x Stroke | Bore x Stroke |
| Boom cylinder / 2 | 7.9" x 42" | 200 mm x 1067 mm |
| Bucket cylinder / 1 | 8.9" x 30.6" | 225 mm x 776 mm |
| Control valve |   | 2-spool type |
| Control positions: |   |   |
| Boom |   | Raise, hold, lower, and float |
| Bucket |   | Tilt-back, hold, and dump |
| Hydraulic cycle time (rated load in bucket) |   |   |
| Raise |   | 9.3 sec |
| Dump |   | 2.3 sec |
| Lower (Empty) |   | 4.1 sec |
|   |   |   |
| Service Refill Capacities |   |   |
|   |   |   |
| Cooling system | 38.8 U.S. gal | 147 ltr |
| Fuel tank | 189.7 U.S. gal | 718 ltr |
| Engine | 22.7 U.S. gal | 86 ltr |
| Hydraulic system | 117.0 U.S. gal | 443 ltr |
| Axle (each front and rear) | 41.0 U.S. gal | 155 ltr |
| Torque converter and transmission | 21.9 U.S. gal | 83 ltr |
Sign Up To Join Our Email List