Find that New or Used piece of equipment you've been looking for!
Search Inventory Search Products & Site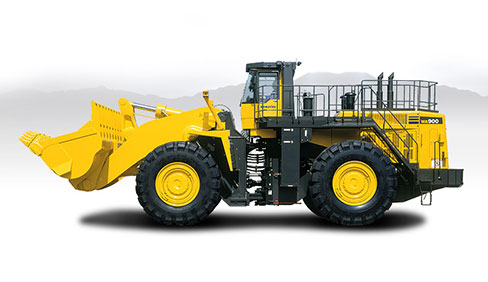 Double tap to zoom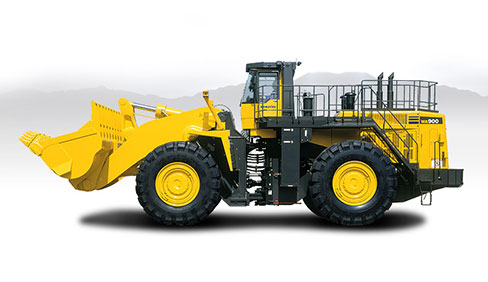 Features
Power, stability and maneuverability. That's what you get with the 17.0 yd3, 856 hp, WA900-3. High stability when digging in the pile and when maneuvering, the WA900-3 is a production loader that can exceed your demands. Using the advanced joystick steering, the operator has the precise control and nimble feel to make him think he's operating a loader half its size.
Specifications
| | | |
| --- | --- | --- |
| Engine |   |   |
|   |   |   |
| Model |   | Komatsu SAA12V140E-3 |
| Type |   | Water-cooled, 4 cycle |
| Aspiration |   | Turbocharged, air-to-air aftercooled |
| Number of cylinders |   | 12 |
| Bore x stroke | 5.51'' x 6.50'' | 140 mm x 165 mm |
| Piston displacement | 1,860 in³ | 30.48 ltr |
| Governor |   | all-speed, electronic |
| Flywheel horsepower |   |   |
| SAE J1995 - Gross | 900 HP | 672 kW |
| ISO 9249/SAE J1349 - Net | 856 PS | 638 kW |
| Rated rpm |   | 2050 rpm |
| Fan drive method for radiator cooling |   | Mechanical |
| Fuel system |   | Direct injection |
| Lubrication system |   |   |
| Method |   | Gear pump, force-lubrication |
| Filter |   | Full-flow and bypass combined |
| Air cleaner |   | Dry type with automatic dust ejector and pre-cleaner, cyclopac with vacuator |
|   |   |   |
| Transmission |   |   |
|   |   |   |
| Torque converter - Type |   | 3-element, single-stage, single-phase |
| Transmission - Type |   | Full-powershift, planetary type |
| Travel Speed* |   |   |
| 1st Forward | 4.3 mph | 7.0 km/h |
| 1st Reverse | 4.4 mph | 7.1 km/h |
| 2nd Forward | 7.6 mph | 12.3 km/h |
| 2nd Reverse | 7.7 mph | 12.4 km/h |
| 3rd Forward | 17.4 mph | 28.0 km/h |
| 3rd Reverse | 17.6 mph | 28.3 km/h |
|   |   |   |
| Axles and Final Drives |   |   |
|   |   |   |
| Drive system |   | Four-wheel drive |
| Front |   | Fixed, full-floating |
| Rear |   | Center-pin support, full-floating, 22° total oscillation |
| Reduction gear |   | Spiral bevel gear |
| Differential gear |   | Straight bevel gear |
| Final reduction gear |   | Planetary gear, single reduction, oil bath |
|   |   |   |
| Brakes |   |   |
|   |   |   |
| Service brakes |   | Hydraulically actuated, wet disc brakes actuate on four wheels |
| Parking brake |   | Dry disc brake |
| Secondary brake |   | Parking brake is commonly used |
|   |   |   |
| Steering System |   |   |
|   |   |   |
| Type |   | Articulated type, full-hydraulic power steering |
| Steering angle |   | 40° each direction |
| Minimum turning radius at the center of outside tire | 30'2" | 9200 mm |
|   |   |   |
| Hydraulic System |   |   |
|   |   |   |
| Steering system: |   |   |
| Hydraulic pump |   | Piston pump |
| Capacity / at rated rpm | 83.2 U.S. gal/min | 315 ltr/min |
| Relief valve setting | 4,977 psi | 34.3 MPa / 350 kgf/cm² |
| Hydraulic cylinders: |   |   |
| Type |   | Double-acting, piston type |
| Number of cylinders |   | 2 |
| Bore x stroke | 6.3" x 19.8" | 160 mm x 503 mm |
| Loader control: |   |   |
| Hydraulic pump |   | Piston pump |
| Capacity / at rated rpm | 109.6 U.S. gal/min | 415 ltr/min |
| Relief valve setting | 4,977 psi | 34.3 MPa / 350 kgf/cm² |
| Hydraulic cylinders: |   |   |
| Type |   | Double-acting, piston type |
| Number of cylinders—bore x stroke: |   |   |
| Boom cylinder - 2 | 10.2" x 53.9" | 260 mm x 1368 mm |
| Bucket cylinder - 1 | 11.8" x 35.7" | 300 mm x 906 mm |
| Control valve |   | Spool type |
| Control positions: |   |   |
| Boom |   | Raise, hold, lower, and float |
| Bucket |   | Tilt-back, hold, and dump |
| Hydraulic cycle time (rated load in bucket): |   |   |
| Raise |   | 11.2 sec |
| Dump |   | 2.0 sec |
| Lower (Empty) |   | 4.8 sec |
Sign Up To Join Our Email List