Find that New or Used piece of equipment you've been looking for!
Search Inventory Search Products & Site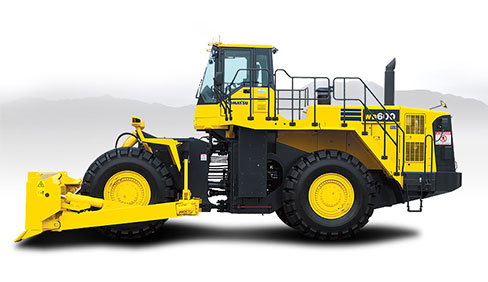 Double tap to zoom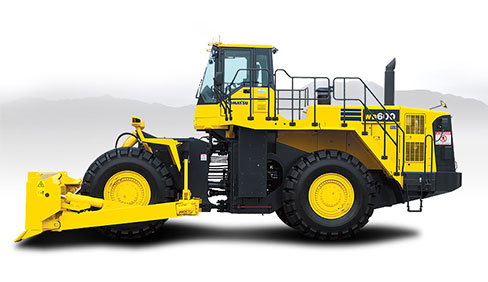 Features
High productivity is the story of the WD600-6 wheeled dozer. The operator has two engine power modes, load sensing hydraulics and a modulated clutch system to harness the 527 horsepower to maximize production when moving mass quantities of soil, coal, chips, slurry or whatever gets in the way.
Specifications
Engine
 
 
 
 
 
Model
 
Komatsu SAA6D170E-5*
Type
 
Water-cooled, 4-cycle
Aspiration
 
Turbocharged, aftercooled, cooled EGR
Number of cylinders
 
6
Bore x stroke
6.69" x 6.69"
170 mm x 170 mm
Piston displacement
1,413 in³
23.15 ltr
Governor
 
all-speed, electronic
Horsepower:
 
 
SAE J1995 - Gross
530 HP
396 kW
ISO 9249/SAE J1349 - Net
527 HP
393 kW
Hydraulic fan at maximum speed - Net
502 HP
374 kW
Rated rpm
 
1800 rpm
Fan drive method for radiator cooling
 
Hydraulic
Fuel system
 
Direct injection
Lubrication system:
 
 
Method
 
Gear pump, force-lubrication
Filter
 
Full-flow type
Air cleaner
 
Dry type with double elements and dust evacuator, plus dust indicator
Transmission
 
 
 
 
 
Torque converter:
 
 
Type
 
3-element, single-stage, double-phase
Transmission:
 
 
Type
 
Full-powershift, planetary type
Travel speed
 
Measured with 35/65-33 tires
Speed:
Forward
Reverse
 
 
 
1st
4.2 mph
4.5 mph
 
6.7 km/h
7.3 km/h
 
 
 
2nd
7.3 mph
11.7 km/h
 
(7.7 mph
8.0mph
 
12.4 km/h)
12.8 km/h
 
 
 
3rd
12.6 mph
20.3 km/h
 
(13.5 mph
13.7 mph
 
21.7 km/h)
22.0 km/h
 
 
 
4th
20.5 mph
22.4 mph
 
33.0 km/h
36.0 km/h
 
(23.4 mph
 
 
37.7 km/h)
 
 
Axles and Final Drives
 
 
 
 
 
Drive system
 
Four-wheel drive
Front
 
Fixed, semi-floating
Rear
 
Center-pin support, semi-floating, 26° total oscillation
Reduction gear
 
Spiral bevel gear
Differential gear
 
Conventional type
Final reduction gear
 
Planetary gear, single reduction
 
 
 
Brakes
 
 
 
 
 
Service brakes
 
Hydraulically actuated, wet disc brakes actuate on four wheels
Parking brake
 
Wet disc brake
Emergency brake
 
Parking brake is commonly used
 
 
 
Steering System
 
 
 
 
 
Type
 
Articulated type, full-hydraulic power steering
Steering angle
 
43° each direction
Minimum turning radius at the center of outside tire
23'3"
7075 mm
 
 
 
Hydraulic System
 
 
 
 
 
Steering system:
 
 
Hydraulic pump
 
Piston type
Capacity at rated rpm
43.1 U.S. gal/min
163 ltr/min
Relief valve setting
4,980 psi
34.3 MPa
350 kgf/cm²
 
 
Hydraulic cylinders:
 
 
Type
 
Double-acting, piston
Number of cylinders
 
2
Bore x stroke
5.1" x 20"
130 mm x 510 mm
Loader control:
 
 
Hydraulic pump
 
Piston type
Capacity at rated rpm
47.6 + 47.6 U.S. gal/min
180 + 180 ltr/min
Relief valve setting
3,560 psi
24.5 MPa 250 kgf/cm²
Hydraulic cylinders:
 
 
Type
 
Double-acting, piston
Number of cylinders:
Bore x Stroke:
Bore x Stroke:
Blade lift - 1
6.3" x 42.5"
160 mm x 1080 mm
Tilt and pitch - 2
7.0" x 9.3"
180 mm x 237 mm
Control valve
 
3-spool type
Control positions:
 
 
Blade lift
 
Raise, hold, lower, and float
Tilt and pitch
 
Tilt-left, tilt-right, hold, pitch forward and back
Hydraulic cycle time
 
 
Raise
 
2.0 sec
Lower
 
1.3 sec
Tilt (left / right)
 
0.8 / 1.1 sec
Pitch (front / rear)mage
 
2.1 / 1.6 sec
Sign Up To Join Our Email List