Find that New or Used piece of equipment you've been looking for!
Search Inventory Search Products & Site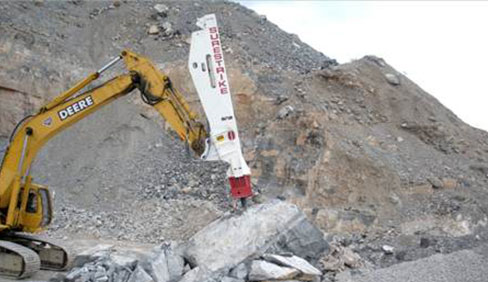 Double tap to zoom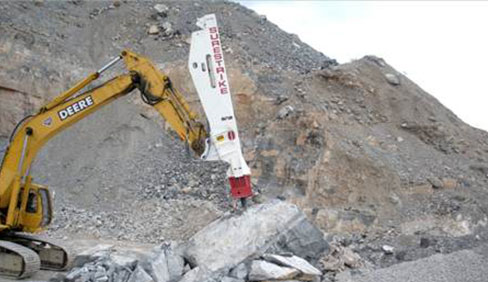 Features
The model 4000 is the best choice for breaking hard rock in applications such as glacial rock, granite, trap rock, basalt, slag and heavy duty concrete demolition. A model 4000 Surestrike Hammer was used at Sea Tac Airport in Seattle, Washington to increase production by more than 50%.  The model 4000 broke the 18″ thick concrete into smaller, more cubical pieces at a rate of 650 square yards per hour. The smaller pieces allow for conventional and more available dump trucks to be used and also less damage to the truck boxes. Potential safety problems of flying debris were eliminated by skirting the Surestrike striking pin area with used belting.

Specifications
| | |
| --- | --- |
| Operating Weight | 15,900 lbs. |
| Overall Height | 23 feet |
| Overall Width | 30 inches |
| Overall Depth | 52 inches |
| Single Blow Impact Energy | 52,000 ft. lb. |
| Cycle Time | 3 sec. |
| Blows Per Minute | 20 |
| Minimum Hydraulic Flow | 42 gpm |
| Minimum Operating Pressure | 2,200 PSI |
| Maximum Operating Pressure | 3,000 PSI |
| Striker Pin Diameter | 8 inches |
| Standard Striker Pin Length | 33 inches |
| Excavator Class | 100,000 lbs. |
| Loader Class | 7-8 yards |
Sign Up To Join Our Email List