Find that New or Used piece of equipment you've been looking for!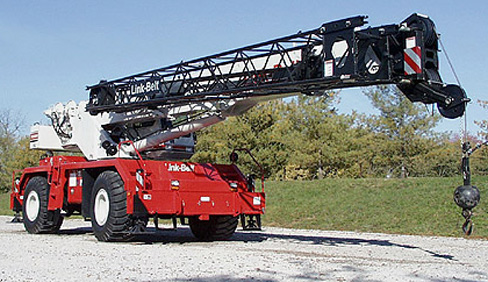 Double tap to zoom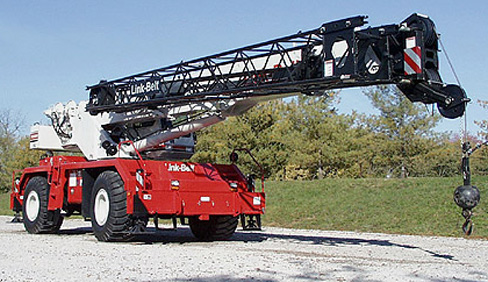 Features
Remarkable control, reliability and capacity performance
Powerful diesel engine and direct coupled transmission
Hydraulic disc brakes for both service brakes and parking brake
Weather proof electrical connectors and relays throughout for outstanding long-term reliability
Color coded and numbered wiring is protected by a flame retardant polyethylene insulation
Full lighting package includes cab lights, headlights, turn indication, marker, backup, and stop
Powder-coated tubing is utilized throughout the crane
Pre-painted components and plated hardware
O-ring face sealed hydraulic components with staggered fittings
Well organized electrical and hydraulic routings throughout
---
Full power boom with attachment flexibility
Quick reeve boom head eliminates the need to remove the becket when it becomes necessary to change the reeving
Two oextend modes: A-max enhances the structural capability and fully synchronized for normal operation
Available two piece bi-folding lattice fly allows the tip section to be stored thus enhancing the lifting performance when using the base section
Three available fly options that feature multiple offset positions of 2°, 20°, and 40°
No deducts for stowed attachments
---
Powerful hydraulics
Piston winch motor provide smooth and precise hoisting
Provisions for the future installation of the auxiliary winch are standard
Main and the available auxiliary winch are equally matched in size and performance
---
Operator's cab features
Extra large windows throughout for excellent visibility
Excellent ventilation via a large sliding door, side and rear windows, and hinged roof window
6-way adjustable seat
Single or dual axis, pilot operated controller mounted on armrest of outstanding operator comfort
All gauges, switches, indicators, and controls are located in the operator's forward line of sight
All gauges and switches are backlit for excellent visibility in low light conditions
Integral rated capacity limiter aids operator in safe and efficient operation
In cab comfort is maintained by the standard heater
Available - Internal and external rated capacity limiter light bars
Available - Internal and external rated capacity limiter light bars
Available - cab mounted warning lights
---
Transport and jobsite maneuverability
Folding front and rear ladders to prevent damage during loading and unloading for transport.
Rugged, lightweight steel pontoons with storage locations for transport
Steering modes are chosen and performed with the steering wheel and include independent front, combination, and "crab"
4-Link suspension on the rear axle with an optional Hydro-Gas Ride™ system
Wide profile lug-type tires for excellent traction in muddy and sanding conditions
CALC—Outrigger beams extend to three different positions (retracted, intermediate, and fully extended) providing lifting capacities in confined areas
---
Designed for easy access and service
Full-length flat deck with integrated steps and handholds
Lockable engine compartment
Large swing out engine hood doors for ease of service
Filters and serviceable items are easy to access
---
Specifications
50 USt (50 mt) Rough Terrain Crane
35.5 - 110 ft (10.8 - 33.5m) four section boom
Optional 28.5 - 51 ft (8.7 - 15.5m) two-piece offsettable fly
168 ft (51.2m) maximum tip height
Height: 11 ft 11.75 in (3.65 m);
Width: 10 ft 3.5 in (3.14 m)
Length: 43 ft 9 in (13.34 m)
13 ft 5 in (4.09 m) wheel base
23.5x25 tires, optional 23.5R25
22.5 ft (6.86 m) outrigger spread
22.5 ft (6.86 m) outrigger base
15,390 lbs (6 980 kg) maximum winch line pull
455 fpm (139 m/min) maximum winch line speed
0% Financing for 48 Months
Check out our financing special offering 0% for 48 months!
Sign Up To Join Our Email List